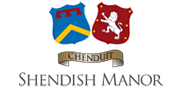 Where Victorian splendour meets modern design
Book a room
10 qualities that make us the complete wedding package in Hertfordshire
So, you've been comparing Hertfordshire wedding venues and Shendish Manor may be one of the final two or three options on your shortlist... but you're still struggling to choose where you would like the most important celebration of your life to be held.
Maybe your decision could be made easier by us giving you 10 quick reasons to make our splendid venue your number one preference?
1. Our rich history. If you're after a gorgeous traditional wedding venue, you could hardly make a better choice than Shendish Manor, with its splendid Victorian architecture.
2. Our jaw-dropping suites. Whether it's the timelessly elegant Manor House that most captures your heart or the commodious and air-conditioned Apsley Suite, we have the desirable and luxurious space in which to make memories that will last a lifetime.
3. An excellent location. You'll find us in the historic surroundings of Apsley between Kings Langley and Hemel Hempstead. We're a less than 10-minute drive from Watford, and only 30 minutes away by train from central London.
4. Enticing special offers. Did you know that you can presently book a wedding in 2018 with us for just £4,500, or £4,995 if you're looking to tie the knot in 2019? Click through to learn more about our latest offers for couples.
5. Our Wedding Fayre. The next one takes place at the hotel between 11am and 3pm on Sunday 21st October 2018, and it's free to attend. It's the perfect opportunity to meet representatives from service providers that could be instrumental in making your wedding one to remember for all of the right reasons.
6. Our knowledgeable Wedding Co-ordinators. These are the people who have organised loads of weddings for us down the years, and who will help to ensure that every aspect of your own nuptials proceeds without a hitch.
7. An experienced manager on the day. With this consummate professional's assistance, you won't need to worry about any last-minute disasters ruining your special day.
8. Our relationships with all manner of caterers. The Home Counties are home to a wide range of skilled and dependable Kosher, Asian, Greek and Italian caterers who can be invaluable in ensuring the food served is one of the best aspects of your wedding.
9. Special bedroom rates for guests. We are one of the region's most popular and admired hotels, and can give your attendees access to our beautiful and spacious bedrooms for less as part of our complete wedding package in Hertfordshire.
10. The availability of special packages. Whatever you want or don't want for your wedding in this glorious part of England, just tell us. We'll get to work on devising the package that represents the best match to your requirements.
Here at Shendish Manor, we never rest in our efforts to make our wedding venue one of the most alluring places to get married in the south of England. You can find out more about what that could mean for you and your beloved by calling our wedding team today, on +44(0)1442 232220.
Special Offers
Find out about our money-saving offers
Wedding Venue
Discover our stunning wedding venue
Special Events
Find out about our latest events