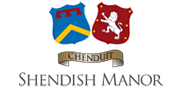 Where Victorian splendour meets modern design
Book a room
3 easily overlooked things when planning a wedding
Blog Post 17/07/2019
It's often said that organising a wedding is a full-time job, and we can't disagree with that here at Shendish Manor! Indeed, we've seen so many instances down the years of couples forgetting vital details at pretty much the last moment, so we wouldn't want you to suffer the same, whether or not you specifically choose to tie the knot at our splendid venue.

Here are a few examples of the things that you might easily overlook on your own special day.
A contingency plan for bad weather
Weddings in Hertfordshire are so popular partly because of the remarkable natural beauty of this part of the UK – but you shouldn't become so entranced by the thought of said beauty serving as a backdrop for your own ceremony and reception, that you forget to have backup plans.
Even Hertfordshire is still the UK, after all, with its famous greyness and drizzle from time to time! It therefore helps to choose a venue, such as Shendish Manor, that is as stunning and practical on the inside as it is on the outside.
The wedding cake
With any luck, you won't exactly forget to have a wedding cake at all! However, given that it will – after all – be the centre of the reception, you should ensure you have properly considered all of the options and possibilities for your wedding cake, rather than risk disappointment gazing at a subpar cake at the 11th hour.
Have you thoroughly discussed with your partner what kind of cake you might want, for instance? Would you like the tiers of the cake to be different? Also, will the venue definitely have a cake stand or cutting set ready for you if necessary on the day, so that you don't end up stuck when it's time to cut the cake?
Arranging photography for when the sun sets
While weddings in Hertfordshire lend themselves to some utterly gorgeous photography regardless, many couples love the idea of having snaps of themselves taken as the sun sets, so magical is the lighting as the day gradually transfers into the night.
If that's an opportunity you would like to take advantage of yourself, it's a good idea to make yourself aware in advance of when the sun will be setting – as you can do by entering the postcode of the venue into the BBC Weather site, for example – so that you won't instead be in the middle of cutting the cake or dealing with family members at the crucial moment.
Remember that when you opt to get married at Shendish Manor, we'll allocate you a dedicated wedding coordinator to help to ensure that every aspect of the planning of your big day goes like clockwork. It's also useful to sort out as many elements of your wedding as possible in advance – as our latest great-value Wedding Offer could enable you to do.
If, then, you would like to make your dream nuptials possible with the assistance of our capable and experienced specialists, there's only one first step that you need to take: getting in touch with the Shendish Manor team today.
Special Offers
Find out about our money-saving offers
Wedding Venue
Discover our stunning wedding venue
Special Events
Find out about our latest events