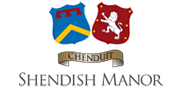 Where Victorian splendour meets modern design
Book a room
3 of our most overlooked strengths as a charity event venue
The serious and earnest task of holding a charity event that does justice to your charity's values and goals can weigh heavily on your mind when you are comparing your options for charity venue hire in the UK.
It may seem to you that no venue quite measures up - so we thought we'd suggest just three more reasons why making Shendish Manor your choice makes so much sense.
1. We're experienced
A charity event, of all of the events that you could possibly hold, needs to go right - from start to finish. You won't want any embarrassing hitches to distract you and your attendees from the charitable activities that should be your big focus throughout the event.
That's why it's lucky that we are so seasoned in overseeing all manner of events here at Shendish Manor, ranging from traditional afternoon teas and hen parties to weddings and celebrations of life. What's more, we have an exceptional track record in them all.
2. We offer the perfect combination of new and old
Yes, Shendish Manor's architecture and grounds may exude Victorian charm and splendour, but you shouldn't be deceived into thinking that means you'll be getting only a decrepit and out-of-date place to host your charity event.
Indeed, quite the opposite is the case. Our Apsley Suite may be a perfect demonstration of this - it's an air-conditioned space that has all of the contemporary comforts and amenities you'd expect, including a kitchen space. However, its elegant decor and sparkling chandeliers also serve as a reminder that you are holding your event in an atmospheric heritage property.
3. We give you some brilliant dining options
At some point before, during or after your charity event, you might want to give your guests the benefit of a hearty dinner, over which to chat with others about the event and what's next for your charity. Of course, it's also a great way to say 'thank you' to your attendees for helping to make your charity event successful.
Sure enough, here at Shendish Manor, we can arrange exclusive private dining in one of our gorgeous banqueting suites. Bear in mind that we can cater to specialised dietary requirements, not least by providing vegetarian options.
While there will doubtless be many other factors dictating which choice you make for your charity venue hire in the UK, here at Shendish Manor, we are confident that our venue is one of the best all-round options in Hertfordshire.
Contact our team now to discuss your needs for your next charity event and book one of our in-demand suites.
Special Offers
Find out about our money-saving offers
Wedding Venue
Discover our stunning wedding venue
Special Events
Find out about our latest events