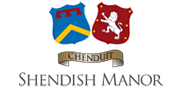 Where Victorian splendour meets modern design
Book a room
3 reasons to hone your golf game in the stunning surroundings of Shendish Manor
Golf enthusiasts don't usually need much encouragement to seriously consider Hertfordshire for their next golfing holiday; the county is, after all, famously verdant, with more than half of it being a designated green belt area.

So, you might think you have plenty of options for your next golf holidays in Hertfordshire. But even among the considerable competition, Shendish Manor stands out as a base for a golfing holiday – for many reasons, of which the below are just a few.
We give you more than just a golf course
We'll get to the not-insignificant matter of our course in a moment – but before anything else, it's worth considering that the best golf holidays in Hertfordshire are never solely about golf.
Quite simply, few options for a golf break offer the charm, history and sense of occasion that Shendish Manor does. Our splendid hotel was built as a country house in the mid-19th century, and is set in 160 acres of delightful parkland and formal gardens.
When you also consider the excellent dining that we offer at our esteemed Orangery restaurant, as well as our stylish, comfortable and well-equipped bedrooms, it should become clear to you what a complete package we are as far as golf holidays in Hertfordshire are concerned.
You'll be brilliantly challenged by our course
Even the golfing purists who don't expect to spend much time in their room when staying with us for a golf break will find themselves wonderfully tested by our US PGA-specification course.
Shendish Manor's 5,660 yard, par 70 course presents you with the perfect mix of hazards through both parkland and woodland copses – and of course, the fabulous surrounding views are also much what you would expect from a leading Hertfordshire golf course.
Our Coach House is also close by, for when you need to hire buggies or trolleys or just fancy helping yourself to something delicious from our bar menu.
We've got some superb deals for golf breaks right now
Whether you wish to use our course on a more casual basis as a hotel resident, pay and play visitor, corporate client or visiting golf society, or for that matter take advantage of membership or our fully-fledged packages for golf holidays in Hertfordshire, we give you all of the options.
We have some great summer golf offers available at present, as well as our ever-popular standard golf break packages. As for if you desire something a little more tailored to your specific needs, well, we're happy to assemble precisely that for you!
Simply phone 01442 251806 today for more information about all things golf at Shendish Manor. Alternatively, email the reservations team to discover the latest details about the seasonal golf break promotions that are available from us throughout the year.
Special Offers
Find out about our money-saving offers
Wedding Venue
Discover our stunning wedding venue
Special Events
Find out about our latest events