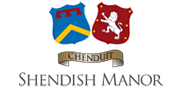 Where Victorian splendour meets modern design
Book a room
5 festive-season events at Shendish Manor that you just can't miss
Christmas is supposed to be the most special time of the year, but will your own Yuletide 2018 live up to that expectation? If there's one way to be sure of it, it's by taking advantage of our latest Christmas hotel deals here at Shendish Manor.
The following are just five of the many events that we will be holding during this year's festive season, as you can learn more about when you download our comprehensive Christmas brochure.
Choir Afternoon Tea
Our afternoon teas have always been nigh-on legendary! When you join us for this one at 12:30pm on Sunday 9th December, you will also be able to enjoy the sounds of the Military Wives Choir.
Christmas Wreath Workshops
How do you fancy designing your very own festive wreath, while sipping some fizz and chomping on mince pies? Well, you have the opportunity to do all of this at either of our workshops - on Sunday 25th November or Saturday 1st December - for a mere £55 per person.
Christmas Party Nights
Few Christmas hotel deals in Hertfordshire are in greater demand each year than our festive party nights, not least because there are so many dates to choose from for booking one, spanning Friday 30th November to Saturday 22nd December.
Both two-course and three-course celebrations can be arranged, and together with the delectable cuisine, you will be able to enjoy scintillating entertainment provided by our resident DJ.
Christmas Day Lunch
It might just be our most eagerly anticipated event of the year, and with good reason! A simply magnificent gastronomic experience awaits those who book this very special celebration, which is priced at £91.50 for adults and £46.50 for children.
As well as the fine dining and our chefs' diligent service, attendees will be able to look forward to gifts for the children, as dropped off the night before by the ever-busy Santa himself!
New Year's Eve Gala Dinner
You couldn't hope to see in 2019 in finer style than at Shendish Manor. Join us for an utterly sumptuous four-course meal and to be serenaded by our skilled vocalist, before our resident DJ takes over to keep you in a great mood throughout the rest of the night.
This black-tie event will see the likes of cream of pumpkin and sage soup, oven-baked lamb rump, sweet potato, leek and spinach strudel and a selection of British cheeses served, bookended by canapés on arrival and Champagne at midnight.
Don't forget that many of our Christmas hotel deals also include the opportunity of an overnight stay at our splendid hotel, with a hearty full English breakfast being served the next day. Take a look at our Christmas brochure today to discover the full wealth of possibilities for marking the festive season at Shendish Manor in the finest fashion.
Special Offers
Find out about our money-saving offers
Wedding Venue
Discover our stunning wedding venue
Special Events
Find out about our latest events