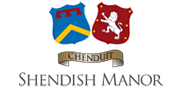 Where Victorian splendour meets modern design
Book a room
5 great reasons to have your wedding in Hertfordshire
Of all of the days during your life, your wedding day is one that you will want to be very special indeed. It therefore pretty much goes without saying that you will want to give a great deal of thought to the location where it all happens.

As you might expect, we're big fans of the beautiful, green county in which we are based here at Shendish Manor. But with so many other fine places to potentially tie the knot, what are five of the best reasons to have your wedding in Hertfordshire?
1. It's one of England's most romantic counties
The mere fact that Jane Austen's novel Pride & Prejudice is primarily set in Hertfordshire should be enough to confirm to you the county's romantic credentials – although of course, it's also full of plenty of enchanting greenery and historic sites to really get the loved-up mood going.
2. There's a lot to go and see
Your wedding shouldn't just be about the ceremony itself – so why not choose somewhere that offers an abundance of things to see and do during all of that time you aren't getting hitched?
Hertfordshire is home to an incredible assortment of attractions, ranging from charming country houses like Hatfield House and Knebworth House, right through to the Roman city of St Albans and the sculpture park of the Henry Moore Foundation in Perry Green.
3. The transport connections are second to none
It's only natural that you will want all of your guests to be able to get to your chosen wedding venue and enjoy the festivities, so you will probably prefer somewhere that isn't in the middle of nowhere.
With its major road and rail connections to London and the rest of the UK, Hertfordshire really does give you and your guests no excuses.
4. You'll find no shortage of history, too
We know this well enough ourselves here at Shendish Manor – our resplendent property is on a site with a distinguished history going right back to the 13th century.
However, everywhere you look in Hertfordshire, there are reminders of a fascinating past, providing the perfect backdrop on which to plot a rewarding and exciting future with your beloved.
5. Finally, you've got a lot of fine venues to choose from
Hertfordshire has a formidable inheritance of distinguished properties providing everything from jaw-dropping photography opportunities to all of the amenities and support staff that you require to ensure your wedding day passes with the maximum celebration and the minimum stress.
If you fancy making the venue for your own wedding in Hertfordshire Shendish Manor, our friendly and professional team is easy to contact at any time.
Special Offers
Find out about our money-saving offers
Wedding Venue
Discover our stunning wedding venue
Special Events
Find out about our latest events