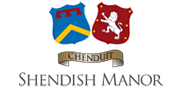 Where Victorian splendour meets modern design
Book a room
5 must-attend events at Shendish Manor this spring and summer
Our esteemed hotel and events venue may be situated in tranquil rural surroundings in Hertfordshire, but that doesn't mean little goes on here! In fact, we have a packed events calendar looming for the next few months, with the below being the highlights.

Are you itching to get back on the golf course after the colder months – or perhaps we should say, itching to get onto a new golf course?
Well, Shendish Manor can certainly help you there, with our Golf Club Open Day on Saturday 20th April. Naturally, you will get the chance to not only gaze upon our beautiful course on the day, but also play it.
Easter arrives in a blaze of, erm, egg-citement at Shendish Manor on Sunday 21st April.
It's the perfect opportunity to join us for an Easter-themed afternoon tea or succulent three-course lunch, followed by the children searching for hidden eggs and having a go on the bouncy castle in the delightful surroundings of our Manor House gardens.
Military Wives' Choir with Afternoon Tea
This special event from 1pm to 3pm on Sunday 19th May will definitely sell out, so we urge you to get in touch with us fast!
For just £24.95 per person or £12.50 for each child under 12, you can enjoy a Traditional Afternoon Tea in our hotel's beautiful surroundings, while also appreciating the delicious food and the glorious talents of the Military Wives' Choir.
Every now and then, we can't resist holding an event in tribute to the fact that our hotel is just a few miles away from the incomparable Warner Bros. Studio Tour London – The Making of Harry Potter!
We've weaved some real magic with this Wizard Themed Afternoon Tea, which includes a gift bag for every wizard, a selection of finger cut sandwiches, cucumber and cream cheese, rock cakes and more – priced at a very reasonable £27.95 per wizard, or £16.95 for wizards under 12.
What about your own wedding reception or special event?
We're all about you here at Shendish Manor, and that includes when you have an upcoming special event of your own for which you require an equally special venue.
We're running a great special offer at the moment that enables you to benefit from complimentary room hire on selected dates in 2019 when you spend £2,000 on pre-booked food and beverage – just the thing, perhaps, for those of you who're interested in holding birthday parties, anniversary bashes or wedding receptions in Hertfordshire this year.
We really do think of everything here at Shendish Manor when it comes to holding the most memorable events. So why not get in touch with us now to secure your booking on one or more of the above, to ensure that you and your family while away this spring and summer in Hertfordshire in the utmost style?
Special Offers
Find out about our money-saving offers
Wedding Venue
Discover our stunning wedding venue
Special Events
Find out about our latest events