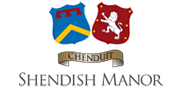 Where Victorian splendour meets modern design
Book a room
5 reasons why so many people choose us for their wedding receptions in Hertfordshire
As if wedding receptions in Hertfordshire aren't special enough already, they can be even more so when you select Shendish Manor as your venue.

After all, we can give you all of the below advantages...
Some of the region's most delightful suites
Whether you ultimately plump for our spacious and air-conditioned Apsley Suite with its capacity of up to about 320 guests, or the more intimate Longman suite within our historic Manor House, you'll have just the place for a romantic and atmospheric wedding reception.
The support of a seasoned wedding coordinator
It's not exactly news that a wedding can be an overwhelming and stressful event to organise – or at least, it shouldn't be!
That's why we have a wedding coordinator on hand who will be able to help you through the process of organising such an important event, which – after all – is something you may have never done before.
A stunning setting
Both within and outside our splendid heritage venue, you, your beloved and your guests will be utterly entranced. The 160 acres of parkland and formal gardens surrounding our Victorian property will certainly have that effect, but much the same can be said about the verdant scenery of the wider county.
Quite frankly, those who want beauty all around them when plotting their nuptials consistently choose to base their wedding receptions in Hertfordshire.
The utmost convenience for travellers
Shendish Manor may be one of the prettiest properties in what is already a picturesque corner of England, but even the most romantic occasions still necessitate a lot of hard-nosed, practical decision-making during the planning process if they are to be a success.
Thanks to the strong transport connections surrounding our venue, including to the likes of Watford, Hemel Hempstead and London, selecting Shendish Manor will leave you confident of every person you invite being able to get here.
We serve up some pretty good special offers, too...
Let's face it – even if you're able to adopt a relatively 'money no object' attitude to planning your wedding, you'll likely appreciate every little saving you can achieve.
Well, you can make quite a big saving on all manner of essentials when you book our Wedding in One Package for nuptials held during 2019. It's available for those who won't be inviting any more than 96 people during the day or 160 during the evening, and includes everything from room hire and use of the Manor Gardens to all tables, chairs, glasses, cutlery and crockery, for one price.
Call +44(0)1442 232220 or email enquiries@shendish-manor.com to find out more about how we can help you in putting together your dream nuptials in this beautiful part of the country. When it comes to wedding receptions in Hertfordshire that are memorable for all of the finest reasons, there's really no superior venue to Shendish Manor.
Special Offers
Find out about our money-saving offers
Wedding Venue
Discover our stunning wedding venue
Special Events
Find out about our latest events