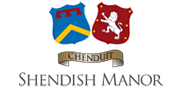 Where Victorian splendour meets modern design
Book a room
5 things not to overlook about your wedding in Hertfordshire
Your wedding will be the most special day of your life – or at least, it should and deserves to be. That's why it really is important to ensure every last detail has been covered.
Here are a few aspects of your upcoming wedding in Hertfordshire that our experts here at Shendish Manor urge you not to ignore.
The location
Yes, there may be a certain dream venue that you have your eye on, but is it also easy to reach for everyone who could conceivably wish to attend your wedding?
Thankfully, here at Shendish Manor, we have a venue that appeals to the head as well as the heart. You'll find us in the 19th-century mill village of Apsley, just a 10-minute drive from the towns of Watford and Hemel Hempstead, as well as a mere 30-minute train ride from central London.
The suite
On the subject of the venue, do you also know the main space in which your matrimonial celebrations will be held? If you're anything like so many couples, we're sure you'll want it to be a romantic and inspiring backdrop. However, it'll also naturally need to be large enough to accommodate all of your intended guests.
We give you not one, but two great spaces to choose from here at Shendish Manor – our Apsley Suite and the main Manor House, the latter containing the Longman Suite.
The catering
Is there a certain culinary theme that you have in mind for your wedding reception? If so, would you prefer to use caterers sourced by the venue, or is there a specific speciality caterer that you would like to have the freedom to use?
Shendish Manor can accommodate both of those paths. You can hire our Apsley Suite on a venue-hire-only basis, or you may wish to tap into our longstanding relationships with various Kosher, Asian, Greek and Italian caterers within the Home Counties.
The overnight accommodation
If you're travelling from far afield to have your wedding in Hertfordshire, or even if there are simply certain guests of yours who may appreciate the overnight accommodation, we can help you here at Shendish Manor. Our special bedroom rates for guests are continually in demand.
The people helping you
As invaluable as it is to have your family and friends assisting you with the planning of your wedding in Hertfordshire, if no one in your party has organised such a significant event before, mistakes can easily be made.
That's why those who hire Shendish Manor as their venue are routinely thankful for the diligent work of our knowledgeable team of Wedding Co-ordinators, who will help to ensure that every detail of your special day is just so.
Don't accept less than the finest when it comes to your own wedding in Hertfordshire. Enquire now about booking one of our prestigious suites for your celebration, by calling +44(0)1442 232220.
Special Offers
Find out about our money-saving offers
Wedding Venue
Discover our stunning wedding venue
Special Events
Find out about our latest events