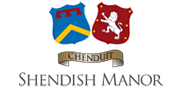 Where Victorian splendour meets modern design
Book a room
5 things that make Shendish Manor the complete golf country club in Hertfordshire
With its famed reputation as one of the greenest and prettiest corners of England, Hertfordshire has long been well-placed to attract golfing enthusiasts. The fact that the county is also home to some of the most challenging and rewarding golf courses and best-equipped golf country clubs simply enhances its credentials in this regard still further.

If you're wondering, then, why Shendish Manor would be an excellent choice as your next golf country club in Hertfordshire, these five factors may just convince you to join us.
A course that simply has to be experienced
Our 5,660 yard, par 70 course has been designed to US PGA specifications – but much more importantly, is also an utterly thrilling place to tee off. Whatever hazards you like to negotiate on a golf course, our own course has a great mix of them, through both parkland and woodland copses.
Surroundings that simply have to be seen
Even the most dedicated and experienced golfers don't spend every second of their time on the course focused on honing their game. That's because a pleasant environment also makes a big difference to their willingness to keep coming back, time and time again.
With its 160 acres of picturesque parkland and formal gardens, as well as the Victorian splendour of our country house itself, Shendish Manor certainly offers that environment.
A variety of ways to take advantage of our course
Of course, many people seeking out a golf country club in Hertfordshire do so with a wish to become a formal member, and we can absolutely give you that – including corporate memberships for employees of your company.
Some golfing enthusiasts, though, like to have a slightly looser relationship with us, which is fine – we welcome hotel residents, visiting golf societies and 'pay and play' visitors right through the year.
You can play at (almost) any time of year
Our course is open 365 days a year, subject to the weather, and at the discretion of the Head Green Keeper. So, even those with a taste for winter golfing – or who would like to make the most of our many attractive deals at this off-peak time of year – can tee off with us in style, whenever they wish.
No country club's special offers are as tempting as ours
What other golf country club in Hertfordshire can you presently think of, that offers deals as alluring as our current full seven-day golf membership promotion? It's available from the start of February until the end of March, and includes free membership of the Privilege Club.
But it's also just one of the many special offers that we are presenting right now to people seeking out the perfect golf break, day trip or all-round golf country club in Hertfordshire.
Whether you're a seasoned golfing enthusiast or rarely play the game, you'll get a lot of satisfaction out of your time on our course – no matter how you fare with the golf itself. Call 01442 251806 today to learn more about precisely what it means to golf at Shendish Manor.
Special Offers
Find out about our money-saving offers
Wedding Venue
Discover our stunning wedding venue
Special Events
Find out about our latest events