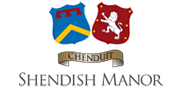 Where Victorian splendour meets modern design
Book a room
5 things to look for in a golf country club in Hertfordshire
Whether you have been living in our part of Hertfordshire for a while or you are a relative newcomer to the charms of this legendarily green county, it's hard to argue against its suitability for golfing – after all, few areas of the UK can boast such beautiful and extensive rolling countryside.
You won't be too surprised, then, to hear that there is many a golf country club in Hertfordshire. But which characteristics should you seek in such a club, and why is Shendish Manor a strong proposition in this regard?
1. A challenging golf course
One of your very first priorities will always be the standard of the course itself. Our own 5660 yard, par 70 course provides an excellent mix of hazards through both parkland and woodland copses, having been designed to US PGA specifications.
2. Reasonable green fees
Yes, you may expect a lot from a golf country club in Hertfordshire, but you shouldn't be priced out. Thankfully, the current weekday green fees here at Shendish Manor are just £16.50 for those aged over 60, and £13.50 for golfers in the 16-and-under age bracket. The equivalent fees at weekends are £23.50 and £18 respectively.
3. Strong transport links
Shendish Manor is located in Apsley, a charming 19th-century mill village near the towns of Watford and Hemel Hempstead, which are both a less than 10-minute drive away. Even central London can be reached in a mere 30-minute train ride, which helps to make our golf country club in Hertfordshire not only a convenient one to reach, but also attractively located for a golf break.
4. The opportunity for corporate membership
As more companies continue to base themselves in the Watford and Hemel Hempstead areas, so more firms are contemplating investing in corporate membership of the Shendish Manor Golf Club to reward their hardworking employees. Both standard and tailor-made packages are available.
5. Attractive golf-break packages
Alternatively, you may be based much further afield than Hertfordshire, or you may simply be interested in a short stay that incorporates all of the best things about a great golf break. Book a golfing holiday at Shendish Manor, and you can look forward to a comfortable and spacious bedroom, a fulfilling breakfast, a delicious three-course dinner and a couple of rounds of highly stimulating golf.
The Shendish Manor Golf Club is open – weather permitting – 365 days a year. So why not call us now, on 01442 251806, to learn more about how you can become a member or otherwise take advantage of a golf country club in Hertfordshire that truly caters to its users' needs?
Special Offers
Find out about our money-saving offers
Wedding Venue
Discover our stunning wedding venue
Special Events
Find out about our latest events