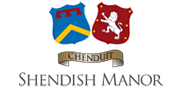 Where Victorian splendour meets modern design
Book a room
A pick of some of our best winter lunch offers
Anyone who is even vaguely familiar with our historic hotel here at Shendish Manor will probably know that we have quite the 'thing' for lunch offers, and the Christmas and New Year period is no different. As a matter of fact, we have a comprehensive calendar of exciting events lined up, as you can appreciate when you download our Christmas brochure.
Making lunches a bit special is something that we love doing at Shendish Manor, not least as we also have some truly beautiful suites in which to hold them. But what are our favourites among our festive season lunch offers that you can take advantage of right now?
Sundays just don't come any more festive
If you and your friends or family intend to be in West Hertfordshire on Sunday 17th December, you might be interested in booking our Festive Sunday Lunch for that date.
It will be a delicious three-course lunch with coffee and mints, and for which the price is £19.95 for each adult, and £9.95 for every child aged between three and 12.
There can be no better way to mark Christmas Day
How are you planning to spend Christmas Day itself? You could, of course, just stay at home like you always do, or you could celebrate it in thoroughly remarkable style by attending our very special Christmas Day Luncheon.
Priced at £89 for adults and £45 for children, our Christmas Day Luncheon will be far from just another Christmas lunch. It will involve our dedicated chefs carefully preparing some utterly magnificent cuisine for you and your family, the festive spirit even further maximised by the fact that Santa will have dropped by the previous night with gifts for all of the children.
Whoever said Boxing Day couldn't be special?
Boxing Day may not exactly rank as the most memorable day of the year for most of us – you might usually spend yours snoozing at home amid all of the unwrapped presents – but it's a very different matter when you instead spend it at Shendish Manor.
We have a fabulous three-course lunch on offer for Boxing Day this year, presenting you with the perfect opportunity to relax with family and friends and enjoy a pleasant stroll in our hotel grounds. The lunch itself is complemented by coffee and mince pies, and can be enjoyed for just £32.50 for each adult, and £16 per child.
With such a wealth of festive season lunch offers and other captivating events planned throughout the winter here at Shendish Manor – as are outlined in our informative Christmas brochure – you really don't need to make plans to dine or stay anywhere else this Yuletide!
Special Offers
Find out about our money-saving offers
Wedding Venue
Discover our stunning wedding venue
Special Events
Find out about our latest events