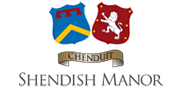 Where Victorian splendour meets modern design
Book a room
Accommodate everyone in your wedding party by making Shendish Manor yours!
Blog Post 19/02/2020
As a long-established and experienced Hertfordshire wedding venue here at Shendish Manor, we more than appreciate that you and your sweetheart will be thrilled by your betrothal and upcoming nuptials. We equally recognise, however, that organising a wedding can also bring its fair share of logistical challenges and headaches.
Ranked highly among those concerns, will be the matter of where many of your prospective attendees will be accommodated for your very special night.
It is entirely understandable that you will wish to keep many of your nearest and dearest close to you on the most important day of your life. Indeed, it is this very consideration that leads many of those looking to tie the knot in England to begin comparing exclusive use hotels.
We give you the best of every world
With most things in life, it's fair to say that we can't, or ever have everything. As the saying goes – where would you put it all? Your wedding, however, is different. This is the day that the two of you, as well as all of your closest and most trusted friends and family, will wish to be reflecting on with the utmost fondness for not only years, but potentially decades to come.
In other words, your wedding venue – and everything about it – needs to be the very height of special. This is why, even among the south of England's many esteemed exclusive use hotels for those looking to get married, the splendid Shendish Manor is a true star.
Our prestigious venue has a remarkable story as a country house in Hertfordshire. Situated in the historic mill village of Apsley, it was constructed under the auspices of Charles Longman, of the celebrated publishing family, in the 1850s, and even served as a British Army camp during the First World War.
Today, it is one of the region's most jaw-dropping and generously equipped exclusive use hotels, with no fewer than 68 bedrooms that can be booked to accommodate as many as 134 of those who mean the most to you for your big night.
Enquire now to book a venue – and package – that genuinely has it all
With the many other benefits of our Exclusively Yours wedding package including the availability of both indoor and outdoor civil ceremony space, a three-course wedding breakfast, a cloakroom, red carpet arrival, a traditional evening buffet and much more, you may well consider it the only way to formalise and celebrate your union.
To learn more about this exceptional opportunity, please feel free to download our comprehensive Exclusively Yours wedding brochure. Discussing exclusive use venue hire with us directly, meanwhile, is as simple as calling 01442 281666 or emailing enquiries@shendish-manor.com.
Special Offers
Find out about our money-saving offers
Wedding Venue
Discover our stunning wedding venue
Special Events
Find out about our latest events