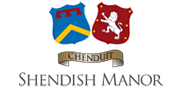 Where Victorian splendour meets modern design
Book a room
An Apsley wedding venue could be just the place for your nuptials this year
If you live in or near the former mill village of Apsley – now a suburb of Hemel Hempstead – you don't necessarily need to look very far to pick out the perfect venue at which to formalise your union with your beloved in 2019.

Why is Apsley such a wise choice of marriage location?
First of all, there's the fact that few places in this part of Hertfordshire can offer quite the heritage appeal that Apsley does! Thanks to the construction of the nearby trunk canal – later to be known as the Grand Union Canal – in the late 18th century, Apsley saw rapid growth during the Industrial Revolution, becoming renowned as a site for paper-making.
The worlds of paper-making and publishing certainly left their mark on the area. For one thing, they effectively left us with one of the most jaw-dropping wedding venues in Apsley today – Shendish Manor.
This is because the present Victorian architecture characterising our former country house dates back to the time of one-time owner Charles Longman, who was part of the longstanding family publishing firm, Longman – now owned by Pearson PLC.
With its fabulous gardens designed by the much-admired 19th-century landscaper Edward Kemp, as well as its splendid current wedding suites including one named after Apsley itself, Shendish Manor feels every inch like the enchanting and quintessential Hertfordshire wedding venue.
But there's more to this captivating area than even Shendish...
As much as Shendish Manor stands out among wedding venues in Apsley, the locality would not make much sense as a base for one's nuptials if it did not also tick a lot of practical boxes.
You might not have realised, for instance, that you are only a 30-minute train ride away from central London if you get married in Apsley, or that broader Hemel Hempstead – a town with a population of about 95,000 people – boasts all manner of great bars, restaurants and similar amenities.
Being the former industrial behemoth that it is, Apsley is also home to some fine pubs, of course, such as The White Lion and Oddfellows Arms on London Road.
Enquire to our team today about our resplendent venue
All in all, not only will your invited guests be able to get to whichever Apsley wedding venue you choose with the utmost ease, but they'll also enjoy a tranquil atmosphere and stunning surroundings while they're there.
Opt for Shendish Manor from your range of possible wedding venues in Apsley, though, and you'll be assured of an even warmer welcome, including from our seasoned wedding coordinator who will be assigned to you to make sure every aspect of your wedding planning goes just right.
Get in touch with the Shendish Manor team today, and you'll soon be able to learn about all of the other perks that you and your attendees could enjoy when you tie the knot in this especially desirable and picturesque corner of Hertfordshire.
Special Offers
Find out about our money-saving offers
Wedding Venue
Discover our stunning wedding venue
Special Events
Find out about our latest events