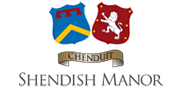 Where Victorian splendour meets modern design
Book a room
As autumn looms, take a little time to plan your most memorable Christmas yet
Blog Post 03/09/2019
Yes, we realise that there's a lot you will want to get done between now and the festive season – and indeed, you may not currently wish to be reminded of Christmas at all. However, we're bringing up the subject of Christmas for a very good reason: it might only take you a few minutes to decide on, and perhaps even book, the perfect festive lunch or party for this year.
If you're wondering how that could possibly be the case, we suggest that you download our comprehensive Christmas and New Year brochure, and start browsing the assortment of very special events we have planned, and which you can book right now.
Whatever you want your Christmas to look like, we've got it sorted
It's as the last few weeks of summer pass by that plenty of us start to have ideas germinating in our heads about what we would like to spend the festive season doing.
Perhaps you fancy a lower-profile celebration this year than might have been the case for you in 2018 or 2017, or maybe you're actually interested in holding the most extravagant Christmas party you've ever had – whether to toast a personal or professional milestone, or just life in general?
Regardless, we've got the ideal complement of Yuletide and New Year events for you to pick from, all taking place in the beautiful and tranquil surroundings of our esteemed country house in Apsley, Hertfordshire.
Those events include Festive Lunches, for instance, that are served throughout the week, and Festive Afternoon Teas that represent a quirky seasonal twist on our ever-popular traditional afternoon teas. Or why not book the complete three-course Christmas Party Night with us, or even secure your place at what will be the Christmas Day lunch in Hertfordshire to be seen at in 2019?
We believe in making magic – even beyond the 25th!
With our latest Christmas brochure also including all of the details you'll need on such post-25th December events of ours as our Boxing Day Carvery Lunch, New Year's Eve Gala Dinner and New Year's Eve Dine & Disco, we really are pointing you to all of the most stylish ways to celebrate the end of 2019 and the start of 2020 here in Hertfordshire.
Don't risk a boring Christmas this year! Instead, get in touch with the Shendish Manor team now to secure your place on one or several events that will help to make your festive season in 2019 utterly unforgettable for all of the best reasons.
Special Offers
Find out about our money-saving offers
Wedding Venue
Discover our stunning wedding venue
Special Events
Find out about our latest events