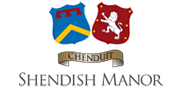 Where Victorian splendour meets modern design
Book a room
Beautiful spaces for your wedding reception are available at Shendish Manor
There's a lot that needs to be 'just right' about your wedding – but the backdrop on which you formalise and celebrate your union is surely one of the most crucial elements of all. This is just one of the things that we are so proud to offer here at Shendish Manor, as a popular base for wedding receptions in Hertfordshire.
Shendish Manor certainly looks the part from the outside, with its splendid Victorian architecture providing the perfect complement to 160 acres of verdant parkland and gardens. However, our choice of wedding suites may just be even better.
You'll find no finer Manor House for your nuptials
It's the dream of so many of those tying the knot in 21st-century Britain: the opportunity to do so on a traditional, historic and elegant backdrop. This is very much what our mid-19th century Manor House gives you, with such features as its own entrance, spacious lounge area and private bar providing your guests with the warmest welcome.
Add such other original features as high ornate ceilings, a sweeping staircase, Jacobean fireplace and oak panelling, and you can also be sure of giving your wedding photographer plenty of interesting angles from which to snap away and produce a series of truly memorable images.
The capacity of our Manor House is also more than generous enough for many of those who wish to hold their wedding receptions in Hertfordshire with us, providing sufficient space for 160 people when evening guests are included.
Or for even more space, consider the gloriously romantic Apsley Suite
As gorgeous as our Manor House is, however, it's well-rivalled by the Apsley Suite that can be found in our east wing, and which can accommodate up to approximately 320 guests amid elegant decor, sparkling chandeliers and all of the air conditioning needed for every attendee to feel comfortable.
The Apsley Suite is far from just the space of ours that you'd choose if you have a longer guest list; it also enables you to use the services of your own speciality caterer. That's because this suite comes with a kitchen space that means you can hire it on a venue hire only basis.
Don't worry if you're unsure of the caterer that would be best suited to your needs in such a space, as we have our own well-established partnerships with Asian, Jewish, Greek and Italian caterers that help to ensure the perfect dishes are laid on for everyone who will be present.
Wedding receptions in Hertfordshire are already pretty special – so be sure to make yours especially so by selecting Shendish Manor as the venue for your nuptials. Call our team now, on +44(0)1442 232220, to discuss our wedding packages and how we may best serve your needs for your big day.
Special Offers
Find out about our money-saving offers
Wedding Venue
Discover our stunning wedding venue
Special Events
Find out about our latest events