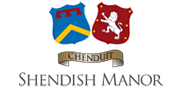 Where Victorian splendour meets modern design
Book a room
Discover more about each of our stunning wedding suites
Shendish Manor has been cited as one of the best-loved wedding venues in Hertfordshire for quite some time now. Despite this, it's a little-known fact that we offer a choice of suites, catering to different tastes, guest numbers and other practical requirements. Here's the list...
Apsley Suite
Situated in the East Wing of the Manor, the Apsley Suite offers a classic, elegant backdrop for your big day celebrations – whether those take the form of a wedding or civil ceremony. The room is air conditioned and can hold up to 350 guests, which gives it the largest capacity of our spaces.
This option is also ideal if you wish to use an external caterer for your celebration, as the suite comes with its own kitchen space.
Manor House
Dating back to 1853, the Manor House is effortlessly elegant and offers plenty of great photography opportunities.
The house has its own entrance, a lounge area and a private bar stocked with all of the soft and alcoholic beverages that you'll ever need to celebrate. Within the Manor House lies the Longman suite, which is suitable for up to 96 guests, while the maximum capacity for the full house is 160.
Both venues open out onto the stunning grounds and gardens of the estate, offering yet more wonderful photography opportunities.
Choose Shendish Manor for your nuptials
Each of our suites is licensed for civil ceremonies, while we can also offer a wealth of discounts and special rates for both the couple and their guests to benefit from. You'll also be able to take advantage of the services of our dedicated wedding manager on the day.
If you require any further assistance with choosing the ideal setting for your wedding at Shendish Manor, please don't hesitate to contact one of our friendly and professional support staff.
Remember that Shendish Manor is far from merely a wedding venue, its combination of modern amenities and Victorian splendour attracting guests from far outside Hertfordshire.
For meetings, dining, golf and overnight stays, Shendish Manor continues to offer the complete package. But when you have a special occasion to celebrate in particular, there is simply no better choice than our resplendent countryside hotel.
Special Offers
Find out about our money-saving offers
Wedding Venue
Discover our stunning wedding venue
Special Events
Find out about our latest events