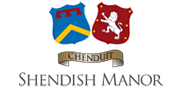 Where Victorian splendour meets modern design
Book a room
Discover what Shendish Manor can do to make your wedding day truly memorable
Wherever you choose to spend your big day, you will be left with memories to last a lifetime. However, it is worth bearing in mind that some venues are willing to go that extra step further to ensure your wedding and reception are memorable for all of the right reasons.
As one of the highest-regarded venues for Hertfordshire weddings, here at Shendish Manor, we've long known what makes the difference between a pretty good wedding and a genuinely great wedding.
Are you interested in finding that out for yourself? Well, in that case, simply take a look below at the steps that we take to make weddings at our magnificent Victorian hotel truly memorable.
A service that will have your wedding running like clockwork
Even the best-organised of weddings can be stressful to oversee. It could be that your plans regarding flowers or food fall through a few days beforehand and you must find replacement suppliers, or that the day itself somehow descends into chaos.
To help tackle any worries regarding these issues – and the issues themselves, should they arise – our team of expert wedding co-ordinators will work hard and be constantly on hand.
It's not easy to plan a wedding, but our dedicated co-ordinators make it look like a breeze, while our experienced wedding manager will help to run every aspect of the day itself. This leaves you free to enjoy yourself on your big day - just like you deserve to.
A wealth of discounts, special rates and more
Weddings can often prove pricey – regardless of how much you scrimp and save.
To assist you with pinching pennies if you need to do so, here at Shendish Manor, we are proud to offer all manner of discounts, special rates and additional features and facilities. Parking and coach space is on us, and you and your guests can also benefit from special room rates.
If you wish, we can add special add-on packages to your room – anything from hand-tied bouquets of flowers and chocolates to the finest champagne on ice – so please don't be afraid to ask when making your booking.
As well as weddings, Shendish Manor is renowned for its hosting of such events as conferences, meetings, baby showers and graduations. For more information regarding weddings and other events at Shendish Manor, just contact a member of our team today.
Special Offers
Find out about our money-saving offers
Wedding Venue
Discover our stunning wedding venue
Special Events
Find out about our latest events