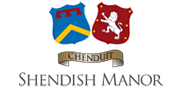 Where Victorian splendour meets modern design
Book a room
Don't miss our inspiring Wedding Fayre on 14th January
We've always had a taste for big events here at Shendish Manor, as you will be able to appreciate merely by glancing at our special events page. However, there's one event, in particular, set to take place at our hotel that could be invaluable for your preparations for your own special day: our Wedding Fayre.
It happens from 11am to 3pm on Sunday 14th January 2018, is free to enter and gives you the perfect opportunity to talk to a range of exhibitors about the services they could provide to help to make your nuptials a resounding success.
It's also an obvious chance, of course, for you to get 'up close and personal' with the Victorian splendour of Shendish Manor itself. Once you've discovered our charming venue and its 160 acres of elegant parkland and formal gardens, you may not feel the need to consider any other wedding venue!
Could we represent the perfect wedding package in Hertfordshire?
When you think of all of the things that a dream wedding venue typically offers, it's difficult to deny that Shendish Manor offers stronger credentials than almost anywhere else in Hertfordshire. There are certainly few buildings in the county that are more distinguished from a historical standpoint; there has been a manor on this site since about 1300.
That sense of history is also apparent through such in-demand spaces for wedding receptions as our Manor House, which dates back to 1853 and boasts the high ornate ceilings, oak panelling, Jacobean fireplace and sweeping staircase that truly mark it out as somewhere special. Its maximum capacity – including evening guests – is 160, although we can also offer the sophisticated Apsley Suite in the east wing of our property, which is suitable for as many as 320 guests.
All in all, you could hardly hope to find a more inspiring place to tie the knot with your beloved, not least given the presence of our knowledgeable and experienced Wedding Co-ordinators, who will be able to assist in making your wedding day an occasion to remember for all of the finest reasons. They will also be available for you to talk to at the Wedding Fayre.
Make the most of your visit this New Year
We can't think of many better ways to welcome in the New Year than taking those first steps that are so crucial to ensuring that your wedding day passes by without a hitch (other than you getting hitched). Why not take the chance while you are here to also enjoy a Light Lunch or Traditional Afternoon Tea with us, while you consider the merits of our wedding package in Hertfordshire?
Call our Events team now on 01442 232220, or email them via salescoordinator@shendish-manor.com, to find out more about our Wedding Fayre and how it could help you to prepare in the best possible way for the most important day of your life
Special Offers
Find out about our money-saving offers
Wedding Venue
Discover our stunning wedding venue
Special Events
Find out about our latest events