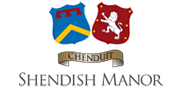 Where Victorian splendour meets modern design
Book a room
Don't stay at home for your Christmas Day lunch!
We all know it, so let's just remind ourselves of it: Christmas Day is truly the most special day of the year. Here at Shendish Manor, we'd also like to think that we've not forgotten one of the most important things about Christmas Day – the opportunity that it presents to get together with your loved ones, share gifts and simply have a wonderful time in each other's company.
We're mentioning all of this because we think that Christmas Day should be celebrated in the utmost style. So why not have your Christmas Day lunch in Hertfordshire, or to be more exact, at our resplendent historic venue here at Shendish Manor?
Our Christmas Day Luncheon simply should not be missed
The splendid Victorian architecture of our manor house and our well-appointed rooms help to make our hotel a very welcoming place to spend the festive season. But we've also not lost sight of the fact that what matters, more than anything else, are the experiences you have with other people celebrating this most special time of year.
You can rest assured that our Christmas Day Luncheon reflects the special nature of the day. It entails our dedicated team of chefs carefully preparing dishes that you will remember for their magnificence for many months and years to come. Santa will have already stopped by the previous night to drop off gifts for the children, so you'll be able to focus on enjoying the gastronomic delights of the Christmas Day lunch in Hertfordshire that you simply should not miss.
Those delights include a choice of such starters as cream of butterbean soup, chicory tart, walnut and pear salad, or smoked salmon and brown shrimp roulade. Then, it's time for your main dish – how do the likes of roasted Norfolk turkey breast, oven baked lamb rump and baked tomato galette sound?
Your dessert options range from traditional Christmas pudding and tangy lemon tart to chocolate truffle torte, while a selection of British cheeses, crackers, grapes, celery and fruit chutney will also be available. Oh, and there are the obligatory mince pies, too!
Book your place at this very special event
Your Christmas Day lunch in Hertfordshire shouldn't just feel like any old lunch in any old place. With that in mind, we'd urge you to get in touch now about our Christmas Day Luncheon, for which reservations are available from 12noon until 3pm, priced at just £89 for adults and £45 for children aged between three and 12 years old.
It's a good idea to act fast to secure your place, as we suspect this is one festive event of ours this year that will very quickly sell out!
Special Offers
Find out about our money-saving offers
Wedding Venue
Discover our stunning wedding venue
Special Events
Find out about our latest events