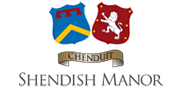 Where Victorian splendour meets modern design
Book a room
Even among historic wedding venues in Hertfordshire, Shendish Manor stands out
Blog Post 21/08/2019
For couples who are especially enchanted by the idea of tying the knot at a wedding venue that exudes historic charm, Shendish Manor has considerable credentials. After all, Shendish Manor itself has a history dating back to the 13th century, and the present building on the site exudes historic splendour, an appearance it took on during the time when Charles Longman, of the famous publishing family, owned the property.
Today, this remarkable history is evident both inside and outside the building, being reflected in charming and adaptable interior spaces such as the Apsley Suite and Manor House, as well as the captivating 160 acres of surrounding parkland and formal gardens.
However, it's definitely not just endlessly fascinating heritage that you can look forward to immersing yourself in when you opt for Shendish Manor above other wedding venues in Hertfordshire. Here are a few other things about our venue that might not be offered by alternative historic wedding venues in this jaw-droppingly beautiful county.
The assistance of the right people
Even if you have been married previously, nothing truly prepares you for the stress and exhaustion that can accompany the process of planning your nuptials. It's definitely the kind of situation in which you'll appreciate a hand from those who have successfully helped to organise weddings like yours for years – people like the Shendish Manor staff, in fact.
Few historic wedding venues in Hertfordshire can claim to have a staff team as capable of ours; indeed, we'll assign you an experienced wedding coordinator to help to ensure that every aspect of your wedding planning works out just right.
Special offers that will intrigue you
We know ourselves from our experience of serving the requirements of couples like you and your beloved, just how easily a wedding can end up running over budget. It might seem as if your true 'dream' wedding is always only slightly out of your financial reach.
Why then, pay a premium for any historic wedding venues in Hertfordshire, when you can choose a beautiful heritage venue that also represents superb value? Our continually updated special offers help to make this possible, such as our current comprehensive Wedding Offer that gives you a 20% discount on the costs of your special day and is available until the end of April 2020.
The chance to visit in advance – in style
You don't necessarily need to book a room with us for an overnight stay, if you'd like to get a little more 'up close and personal' with Shendish Manor before committing to making us your Hertfordshire wedding venue.
That's because we also arrange an always well-attended Wedding Fayre on a regular basis, with the next one set to be held on Sunday 20th October. It's free to attend, and gives you the opportunity to discover our historic building at close quarters, as well as to speak to a range of essential wedding service providers, and even take advantage of some special offers.
Do the other heritage wedding venues in Hertfordshire that you are presently looking at, really offer all of the above benefits? If not, get in touch with the Shendish Manor team today to discuss how we can work together to arrange nuptials that you can be sure of remembering for all of the right reasons.
Special Offers
Find out about our money-saving offers
Wedding Venue
Discover our stunning wedding venue
Special Events
Find out about our latest events