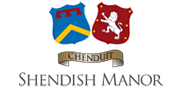 Where Victorian splendour meets modern design
Book a room
Exclusive weddings at our manor house make lifelong dreams a reality
Blog Post 20/01/2020
What is the archetypal dream wedding for you? If your answer is the same as that of huge numbers of other people, you're probably picturing a magical-looking historic property, perhaps surrounded by jaw-dropping parkland and formal gardens, and complete with stunningly furnished interior suites.
As if all of that wasn't enough, you're also probably imagining having such a distinguished residence solely to yourself, your beloved and everyone else among your nearest and dearest.
But of course, they call them 'dreams' because they aren't reality, right? Well actually, that's not quite true – as the exclusive weddings at our own manor house here at Shendish Manor beautifully demonstrate!
When we say 'exclusive', we really do mean exclusive
You might not be quite fortunate enough to literally own a historic house in the picturesque surroundings of one of England's prettiest counties, but taking advantage of our prestigious 'Exclusively Yours' package can certainly bring you very close to that ideal!
Indeed, one could surely scarcely imagine a finer Hertfordshire wedding venue than Shendish Manor, even if they had the opportunity to design and build one themselves.
Our esteemed manor house has graced the traditional mill village of Apsley since the mid-19th century, when it was built on the orders of Charles Longman, of the famous Longman publishing family, in the 1850s.
The property subsequently passed through generations of the Longman family, even seeing use as a British Army camp in the First World War and later a sports and social club for John Dickinson Stationery, before becoming a hotel and conference centre in the 1990s.
Retaining all of the charm of its 19th-century and early 20th-century historic heyday, Shendish Manor today makes for an utterly entrancing wedding venue that you and your sweetheart will be delighted to be able to exclusively call your own, for the duration of the most special day of your lives.
Luxurious wedding quarters and accommodation for you and your guests
Utterly tastefully furnished and maintained by the ever-diligent and experienced Shendish Manor team, our heritage venue boasts not only exquisite rooms for hosting your wedding celebrations, but also no fewer than 68 opulent bedrooms, affording the opportunity for you and up to 134 of your friends and family to stay overnight. This can be followed the next morning by a private breakfast in our elegant Orangery restaurant.
Would you like to learn more about the sheer comprehensiveness and desirability of our 'Exclusively Yours' wedding package that goes some way to explaining why, for those contemplating exclusive weddings in a manor house this year, there could hardly be a finer choice than Shendish Manor?
If so, you are very welcome to download our brochure, which outlines all of the fine details of our exclusive weddings in one of the most admired former country residences in Hertfordshire.
Special Offers
Find out about our money-saving offers
Wedding Venue
Discover our stunning wedding venue
Special Events
Find out about our latest events