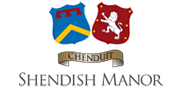 Where Victorian splendour meets modern design
Book a room
Fun, feasts and festivities this Christmas at Shendish Manor
We understand just how stressful it can be to try to organise Christmas at home, making room for all of your family while ensuring your Christmas dinner doesn't catch on fire (among so many other things that can go wrong), which is why Shendish Manor is here to help.
Our incredible Christmas hotel deals see us welcome guests and large parties with open arms, bringing them a variety of amazing banquets and events this holiday season.
Bring the whole family or sneak away with your partner to Shendish Manor, where we love to go all-out for Yuletide.
Christmas and Boxing Day lunch and parties
We will be hosting a delectable pre-Christmas lunch on the 18th, with a three-course meal made up of a selection of our gourmet menu dishes. When Christmas Day comes around, we will have an exceptional selection of festive dishes.

Choose from our range of perfect party meals, such as slow-cooked pork duck terrine and goats' cheese salads for starters, stuffed pepper and roast butternut squash and, of course, a delicious roast turkey parcel dish, with chipolata sausages and all of the other trimmings.
Our Christmas lunch will also consist of a tasty traditional turkey dinner, plus various other alluring morsels, including our baby spinach, chive and wild mushroom vol-au-vent, slow cooked beef fillet and pan-fried cod fillet with parmesan gnocchi.
Disco dancing this New Year's Eve
New Year's Eve wouldn't be complete without our fabulous Gala Dinner. We provide a menu of delicious meals and complement your dining experience with our resident sax and clarinet player, playing some laid-back music for your enjoyment.
However, we have more than just feasting in store. Our Christmas night will feature a disco for people to get up and burn off the food they've eaten, playing music from the '70s, '80s, '90s and modern times.
We'll also be holding a fun-packed disco on New Year's Eve, with plenty of drinks available at the bar and our resident DJ playing great dance classics and plenty of modern classics to boot.
Take advantage of our enticing Christmas hotel deals

We're dedicated to providing the utmost care for our guests, both during and outside the crucial holiday seasons. To learn more about what we have in store over the Christmas period, simply get in touch with a member of the Shendish team, who will also be able to book your place at any of our festive events.
Special Offers
Find out about our money-saving offers
Wedding Venue
Discover our stunning wedding venue
Special Events
Find out about our latest events