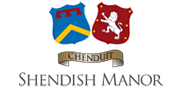 Where Victorian splendour meets modern design
Book a room
Golfing trips to Hertfordshire can take many different forms with Shendish Manor
The experience of teeing off in Hertfordshire might just be superior to that of teeing off anywhere else in England. This is, after all, Hertfordshire – one of the nation's greenest counties, replete with undulating countryside and verdant gardens. Indeed, more than half of the county is a designated green belt area.

Should it, then, be any surprise that golfing trips to Hertfordshire remain in such strong demand right through the year? It certainly helps to explain why our own course – weather permitting – is open 365 days a year, as well as why our various golfing holiday packages are so sought-after.
However, you might not appreciate just how much golfing trips to Hertfordshire can differ, even when those trips are purely to Shendish Manor. So, what are the golf break options that we are offering right now, and which will enable you to hone your game in style during 2019?
We have the perfect complement of golf offers
You might have imagined the winter would be a slow time for us and our 5,660 yard, par 70 course – but that simply isn't the case. Indeed, many golfing enthusiasts are especially attracted to the variety of special offers that we tend to advertise at this time of year, and 2019 is no different.
From now until March, for instance, a series of golf break packages is available from us from a mere £82 per person, in the case of our Sunday night break consisting of dinner, bed, breakfast and two rounds of golf. But you also have the option of joining us for two nights' dinner, bed, breakfast and three rounds of golf for £171 per person, or three nights' dinner, bed, breakfast and four rounds of golf for £227 per person.
It's worth bearing in mind, too, that we have an assortment of golfing deals at present that don't entail a longer break or overnight stay. They include the likes of a full seven-day golf membership – including free membership of the Privilege Club – and '2-4-1' golf on Tuesdays, Wednesdays and Thursdays.
Intriguing golf packages are on offer right through the year
Whatever form your dream golfing trips to Hertfordshire would take, we're sure we can present you with the most tempting package for your preferences and needs here at Shendish Manor.
Give our golf team a call now on 01442 251806, and you can be confident of us putting together a holiday or deal for you for this winter – or indeed, any other time during 2019 – that you won't be able to resist.
Special Offers
Find out about our money-saving offers
Wedding Venue
Discover our stunning wedding venue
Special Events
Find out about our latest events