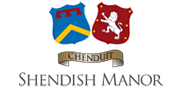 Where Victorian splendour meets modern design
Book a room
Here's why no weddings are quite like Hertfordshire weddings
If you're still looking up and down the country for the perfect venue at which to tie the knot with your beloved, you may be interested in learning about the many things that make the county of Hertfordshire, in southern England, the ideal place to invite all of your friends and family.
It's just so... green
Hertfordshire is one of the UK's most beautifully rural counties, a quality preserved in large part thanks to the continued extensive use of its land for agriculture. Such jaw-dropping verdant scenery makes a fine backdrop for wedding photos, of course, and when you get married at Shendish Manor, your heart is also sure to be captured by our 160 acres of surrounding parkland and gardens.
You will be well-connected
Do you have friends and relatives that you would like to invite from London or the Home Counties? What about further north, or beyond the UK? Whatever the situation, you can be sure of your guests being able to easily reach us. Our venue is located a mere 30-minute train ride from central London, and the road and rail links to other parts of the UK are strong, too. As for airports, two of Britain's biggest - Stansted and Luton - are within 10 miles (16 kilometres) of Hertfordshire's borders.
Few counties offer so many incredible venues
One of the biggest reasons why there are so many Hertfordshire weddings is the simple fact that there are so many venues that lend themselves beautifully to a ceremony and reception that are memorable in all of the finest ways. We would like to think we very much live up to the county's formidable reputation in this regard here at Shendish Manor, with our splendid Victorian country house and prestigious and spacious suites.
There's plenty to see and do away from the venue
If you're travelling to what may be the opposite end of the UK or even the world to see someone get married or to formalise your own union, it doesn't hurt to be somewhere that is also a delight to visit in its own right. Hertfordshire serves up no shortage of appealing attractions and activities, ranging from Berkhamsted Castle and the Henry Moore Foundation to Hatfield House and Watford Museum - to say nothing of the delights of nearby London.
When Hertfordshire weddings can be as magical and as memorable as those that we hold here at Shendish Manor, why should you feel the need to consider any other venue? Call us now, on +44(0)1442 232220, to learn more about the merits of our exquisite setting for your nuptials.
Special Offers
Find out about our money-saving offers
Wedding Venue
Discover our stunning wedding venue
Special Events
Find out about our latest events