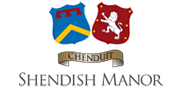 Where Victorian splendour meets modern design
Book a room
Hertfordshire's the perfect place for a jaw-dropping exclusive-use wedding
Blog Post 18/03/2020
Very few counties arguably epitomise the unspeakably romantic, idyllic and verdant image that so many people have of England, as well as Hertfordshire does. The South East England county is truly one of the gardens of England (yes, we're competing with Kent and Yorkshire for that title!), but also makes a lot of practical sense for special events such as... dare we say it... weddings.
This practicality is made possible by such factors as Hertfordshire's well-developed transport links and essential amenities.
But of course, we also realise as well as anyone here at Shendish Manor, that if you're looking to get married, you'll want it to be a 'heart' thing and not just a 'head' one. And when it comes to ways to get married that appeal to the heart... well, you just can't beat our own exclusive-use weddings in Hertfordshire.
Have your dream wedding venue, entirely to yourself!
If you haven't heard of exclusive-use weddings before, we can assure you that the term isn't a misnomer. It really is a wedding in which you get to treat the venue as if it was your own – and for many loved-up couples, the more historic and charming the venue, the better.
This brings us neatly onto the subject of our own country house. Built by architect John Griffith for Charles Longman – of the legendary publishing family – in the mid-19th century, Shendish Manor exudes Victorian splendour, inside and out. And that's without us even getting onto the subject of the 160 surrounding acres of parkland and gardens that are sure to take your breath away.
Wedding packages really do come no more prestigious than this
For couples who have always dreamed of tying the knot in the utmost style, at a historic venue evocative of the times of Jane Austen and Downton Abbey, there can be no finer option than an exclusive-use wedding package from a Hertfordshire manor house like ours.
With our own sought-after Exclusively Yours package – all-new for 2020 – encompassing the likes of a three-course wedding breakfast, traditional evening buffet, white dancefloor, honeymoon suite for the night of the wedding, and no fewer than 68 luxurious bedrooms for accommodating the couple and guests, this is a deal that represents the last word in prestige in Hertfordshire weddings.
Don't miss out on the opportunity of a wedding of a lifetime
You can learn more about this exceedingly desirable private-use wedding package by downloading our Exclusively Yours brochure or enquiring directly to our team.
Exclusive-use weddings in Hertfordshire are pretty much as special as weddings come. Yours will be even more so, however, when you place your faith in our friendly, professional and capable team here at Shendish Manor, who will work diligently to give you no less than the wedding that you have always dreamed of.
Special Offers
Find out about our money-saving offers
Wedding Venue
Discover our stunning wedding venue
Special Events
Find out about our latest events