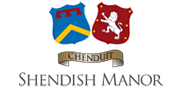 Where Victorian splendour meets modern design
Book a room
How could a golf country club in Hertfordshire enhance your lifestyle this summer?
Whether you are an enthusiastic and seasoned golfer or have only recently developed an interest in this rewarding game, it's very possible that instead of simply teeing off on a more casual basis at whatever courses you may encounter on your travels, you consider a full golf club membership.

Even if you don't go as far as membership, though, the right golf country club in Hertfordshire could do an immense amount to further your enjoyment of the sport. Here are a few examples of what we mean, with particular reference to our own impressive amenities here at Shendish Manor.
A golf club can give you everything... and we mean everything
Make the right choice of golf country club in Hertfordshire this summer, and you may well be amazed by how complete a package you actually get.
By this, we are – of course – partly referring to those aspects of such a club that could really help to maximise your enjoyment of the sport itself. Those include, in Shendish Manor's case, the 5,660 yard, par 70 course, as well as the Coach House, where buggies and trolleys can be hired.
But it's not just the golf that will serve to make your experience with a golf country club in Hertfordshire a positive or negative one. Our Coach House Bar, for instance, extends a warm welcome to all visitors, and is just the place to enjoy any of an assortment of mouth-watering dishes.
It can act as the centrepiece of a summer vacation
That's right; while we are well set-up for casual visits here at Shendish Manor, our golf breaks are renowned for their flexibility, hospitality and value for money. This is especially the case given the opportunity that such a break presents for you to enjoy our wider historic property, situated in 160 acres of parkland and formal gardens.
A typical golf break with us might entail a couple of rounds of enthralling golf alongside a relaxing stay in one of our twin or double bedrooms, a satisfying breakfast and a delicious three-course dinner in the Orangery restaurant. Whatever you specifically desire from a golf vacation, though, our team can put together a package to suit.
Nor do you have to remain on our grounds throughout your stay at our golf country club in Hertfordshire, given that Shendish Manor is within convenient travelling distance of all manner of local and regional attractions, ranging from Hatfield House to Warner Bros. Studios Tour London – The Making of Harry Potter. Even central London is just 30 minutes away by train.
As you can see, then, a golf country club in Hertfordshire doesn't even need to be purely about the chance to tee off in the stunning surroundings of this especially picturesque area of England. Call the Shendish Manor golf team now on 01442 251806, and we can take you through your options for a membership plan or holiday break that will make you a happy golfer this summer.
Special Offers
Find out about our money-saving offers
Wedding Venue
Discover our stunning wedding venue
Special Events
Find out about our latest events