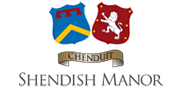 Where Victorian splendour meets modern design
Book a room
How does a lovely Christmas afternoon tea sound?
You might have expected such a resplendent historic venue as ours to represent the finest in gentility, and that is rarely a truer characterisation of the atmosphere here at Shendish Manor than during our Traditional Afternoon Teas, which have become something of a legend among our regular special events.
If you have never before attended a Traditional Afternoon Tea with us before, they're very much what they sound like: gentle occasions to enjoy with your family, friends or loved ones, tucking into a selection of finger sandwiches and assorted other menu items and desserts. They're great occasions on which to get together, have fun and generally chat the afternoon away.
Well, we're delighted to announce that our ever-popular Traditional Afternoon Teas aren't going anywhere this Christmas! In fact, they're being given something of a seasonal twist, as we explain in greater detail below.
A proper festive afternoon tea, done the Shendish Manor way
Available on any weekday between 12:30pm and 5:00pm and any weekend between 1:00pm and 5:00pm right through the festive period, a Christmas Afternoon Tea with us combines dainty finger sandwiches with freshly made scones, afternoon cakes and mince pies, for the ultimate Yuletide feeling.
All of the above can be booked for a mere £18.95, with Christmas Tipples also available at an additional charge. However, we would advise you to book quickly if you fancy joining us, as we expect all of the events in our packed Christmas programme this year to be subject to huge demand.
Alternatively, you may be interested in the Festive Afternoon Tea with Local Choir that we have planned for Sunday 10th December. It's the perfect opportunity to enjoy all of the things that make our Traditional Afternoon Teas wonderful, tucking into the buffet to a soundtrack of some of the area's fabulous singing talents.
The price for the aforementioned event also represents excellent value, at £19.95 for adults and £9.95 for children aged between three and 12 years. It really does promise to be an exceedingly memorable occasion in all of the finest ways.
There's only one place to spend Christmas this year
How could you possibly see out 2017 anywhere other than the splendid Shendish Manor? Simply download our Christmas programme now to discover more about the special events we have lined up throughout the festive period, and which may represent the perfect way for you to celebrate Yuletide in Hertfordshire, whether you are coming to visit us from near or afar.
Special Offers
Find out about our money-saving offers
Wedding Venue
Discover our stunning wedding venue
Special Events
Find out about our latest events