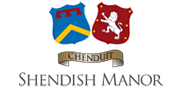 Where Victorian splendour meets modern design
Book a room
It's not too late to come along and sample our Christmas Afternoon Tea
Blog Post 12/12/2019
Afternoon tea is one of those great English country-house traditions, with a history dating back to the mid-19th century – so of course, you would expect a splendid Victorian country-house hotel like Shendish Manor to host this kind of light meal quite frequently.
Well, you'd be right! Indeed, our Traditional Afternoon Teas are something of an enduring favourite among visitors and guests alike – but this festive season, we're helping to make them even more special, by giving them a certain seasonal twist.
A charming and quaint Yuletide can be enjoyed at Shendish Manor
English country houses are typically highly enchanting places to stay, visit and enjoy a light meal, and Shendish Manor absolutely lives up to this fine tradition. Christmas Afternoon Tea with us represents a fun reimagining of our popular Traditional Afternoon Tea, and is served throughout this month, between 12:00 and 16:00 on weekdays, and from 13:00 until 16:00 on weekends.
The prices for this particular Festive Afternoon Tea are £21 per adult and £14.50 per child aged between four and 12 years. However, in the likely event that you find just one Christmas Afternoon Tea with us to be insufficient, we're also offering 'four Festive Afternoon Teas for the price of three' from Monday to Friday throughout December.
Or why not be a little more ambitious for your time with us?
As wonderful as Christmas Afternoon Tea at Shendish Manor can be, it's also just one part of a truly impressive complement of festive-season events, as you can find out more about when you download our Christmas and New Year brochure.
We are also, for example, offering Festive Lunches this month, priced at £25 for three courses and £20 for two courses, available between 12:00 and 16:00, Monday to Friday, as well as from 13:00 to 16:00 on Saturdays and Sundays. These, too, come with a special offer from us at the moment, with three courses able to be enjoyed for the price of two if you join us for a weekday Festive Lunch.
Click through now to discover more about how to book a Christmas Afternoon Tea or Festive Lunch at one of Hertfordshire's most sought-after country-house hotels. Whether you arrive at our entrancing property with family, friends or colleagues, you can be assured of a warm welcome, and memories to match – so act fast before the opportunity has gone for another Christmas!
Special Offers
Find out about our money-saving offers
Wedding Venue
Discover our stunning wedding venue
Special Events
Find out about our latest events