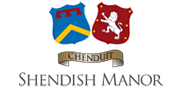 Where Victorian splendour meets modern design
Book a room
Like to plan ahead? Then you'll love our current Christmas offer!
Although it doesn't seem like 10 seconds since spring started, December is mere months away. We know it may seem a bit early to begin booking things to do during the festive period, but please do hear us out.
Wherever you choose to spend your time during Christmas, places do tend to fill up quite quickly. It's also worth considering that the greater time in advance you book, the less you are likely to pay. With this in mind, why not select the finest wedding venue and golf country club in Hertfordshire as the venue for your festivities?
Festive fun for the whole family
Shendish Manor will be hosting a series of events in the run-up to Christmas. Our world-class kitchen team is bound to be creating an endless stream of Christmassy dishes to suit all tastes – including Christmas dinners with all of the trimmings. We'll be decorating the hotel as we do every year, and you'll still be able to make full use of our golfing green.
We understand that Christmas is a very special time of year for children, which is why – as always here at Shendish Manor - our team will be doing their utmost to make the little ones feel welcome. Our restaurant will be serving up all manner of treats, and who knows – we may even get a visit from Santa this year!
To gain the most value for money from your stay, we recommend booking now to benefit from our special offer – contact us to find out more.
For the most memorable Christmas you ever have...
Whatever you choose to get up to on a chilly winter's day here in wonderfully rural Hertfordshire, you'll have one of our 70 snug yet spacious bedrooms to return to when the night falls. Each room comes equipped with hypoallergenic pillows and duvets, as well as all of the other features and facilities you'll need for a comfortable stay, including complimentary Wi-Fi, an ironing station and en-suite bathrooms.
Regardless of what you're celebrating, we believe Shendish Manor is the perfect venue at which to do so – be it a graduation, baby shower, wedding or something else entirely.
To discover more about spending Christmas with Shendish Manor or booking another special event with us, please feel free to contact our friendly and receptive team. For everything from baby showers to wedding receptions in Hertfordshire, we should be your first and only choice!
Special Offers
Find out about our money-saving offers
Wedding Venue
Discover our stunning wedding venue
Special Events
Find out about our latest events