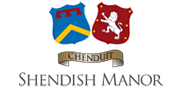 Where Victorian splendour meets modern design
Book a room
Looking for the perfect wedding package in Hertfordshire? Your search is over
At this time of year of all times of year, it's understandable that many people may be very much in the mood to propose to their beloved and tie the proverbial knot. However, getting married isn't just about convincing that special someone to say "yes" – it's also about attending to all of the practicalities surrounding one's big day.

This is where we (potentially) come in. All of the things that you can imagine making up the dream wedding package in Hertfordshire – a gorgeous historic venue in beautiful grounds affording the most romantic photography opportunities, complete with sumptuous suites and the support of dedicated and experienced Wedding Co-ordinators – is present and correct at Shendish Manor.
It also, of course, all takes place in one of England's greenest and most idyllic counties – and with special guest bedroom rates also available, all of your family and friends can also enjoy these wonderful surroundings while celebrating the formalisation of your union.
Suites that will take your breath away
As romantic as your wedding or civil partnership promises to be, you will also doubtless want your choice of venue to cater to all of the obvious practicalities.
This is certainly the case with our wedding suites – the Apsley Suite, for example, can accommodate about 350 guests, while the mid-19
th
century Manor House is home to our Longman suite, with enough space for 96 guests for a wedding breakfast. With evening guests included, the Manor House has a full capacity of 160.
However, our wedding suites here at Shendish Manor don't merely "do the job" as they also exude all of the charm and elegance that help to make the difference between a pleasant wedding and an unforgettable one. The Manor House's many original features, for example, include a sweeping staircase, oak panelling and high ornate ceilings, while the Apsley Suite boasts sparkling chandeliers, pleasing decor and doors that open out onto a private garden.
Why hesitate to make your booking?
With the finest wedding venues so often reserved far in advance, if you wish to secure some time with that special someone in your life right here at the resplendent Shendish Manor, now is the time to enquire to our friendly and professional customer service team.
The dream wedding package in Hertfordshire could be yours – so why not call us now to discuss how we can help to make your big day one that you will remember for all of the best possible reasons?
Special Offers
Find out about our money-saving offers
Wedding Venue
Discover our stunning wedding venue
Special Events
Find out about our latest events