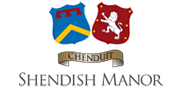 Where Victorian splendour meets modern design
Book a room
Have a magical Christmas with Shendish Manor and the Warner Bros Harry Potter Studio Tour
One of the several things that draw a crowd to Shendish Manor during the festive season – besides our reputation as one of the best venues for Christmas events in Hertfordshire – is the nearby Warner Bros Studio Tour.
A must-visit for Harry Potter fans everywhere, the tour features the original props, sets and studio space used in the much-loved film series, as well as countless other experiences and activities for visitors to enjoy.
Listing too much else of what awaits would surely spoil the surprise of the adventure of a lifetime. So instead, we'll go into more detail as to why the combination of a stay at Shendish Manor and participation in the tour makes for the perfect festive fun.
A magical time of year
The tour is still open throughout the festive period, bar five days in the middle of November, Christmas Day and Boxing Day, and for a few days at the start of February. Opening times may be limited throughout the festive months, so we recommend that you contact the studios or ourselves for more information before you decide on a date.
If transport between the hotel and tour is a concern, it shouldn't be - a 20-minute car journey is all that separates you from a day of magic and wonder. Alternatively, if you would prefer to take public transport, a 20-minute walk into the nearby village of Apsley will allow you to catch the bus or train of your choice, some of which enable you to alight right outside the studio.
Should you prefer or require a taxi, however, a member of our reception team will be more than happy to give you the number for a local firm that is both friendly and good value for money.
The ideal Christmas gift
If you have a family member, friend or loved one who is a fan of the Harry Potter franchise, we reckon that booking a trip to the studios will make for a Christmas present they'll never forget.
Ensuring that you have a comfortable bed to come back to at the end of a busy day will further improve an already magical trip – so why not contact our welcoming and helpful team here at Shendish Manor to book your stay now?
Special Offers
Find out about our money-saving offers
Wedding Venue
Discover our stunning wedding venue
Special Events
Find out about our latest events