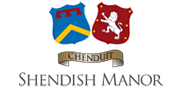 Where Victorian splendour meets modern design
Book a room
Now's as good a time as any to plan a visit to Shendish Manor this Christmas
If you think the historic Shendish Manor is a picturesque place to stay or visit during the summer months, you can be sure of your jaw truly dropping when you come to see us during the festive period.
As you might expect given our status as one of the most popular hotels and dining and entertainment venues in Hertfordshire, we have a host of intriguing Christmas hotel packages and events for you to choose from – and now is a great time to book your place on them.
Our complete Christmas brochure, giving you all of the details you need on our Yuletide parties, afternoon teas and lunches this year, can be downloaded right now. So, what are some of the highlights?
No hotel knows how to 'do' Christmas events quite like Shendish Manor
If you simply fancy visiting our beautiful manor house and grounds for a relaxed dining experience in the company of family, friends or colleagues, why not join us for one of our Festive Lunches? They're available in our enchanting Orangery restaurant from Monday to Sunday throughout December, including well-priced two-course and three-course options.
Also able to be enjoyed on the same days during December – from 1pm to 5pm – are our Festive Afternoon Teas, which present you with the perfect chance to enjoy a suitably festive twist on our ever-popular Traditional Afternoon Teas, complete with dainty finger sandwiches, cinnamon-dusted scones and rich clotted cream.
But we're also seasoned in holding much more ambitious celebrations!
Christmas being the extremely special time of year that it is, a fleeting visit to Shendish Manor during the day might not be enough for you. So, why not revel in the somewhat grander celebration opportunities that our two-course and three-course Christmas Party Nights offer?
You can book your Christmas Party Night with us on any of a series of dates between Friday 30th November and Saturday 22nd December. After all of that delicious cuisine, in fact, you might even be tempted to stay the night with us, taking advantage of our special room rates from £80.
Then, there's the 'big one' – our Christmas Day Lunch. Just imagine tucking into such a delicious main course as roasted Norfolk turkey breast, fillet of beef or chargrilled halloumi, while taking in views of our marvellous gardens. With a glass of Champagne provided on arrival and coffee and mince pies also served, it promises to be quite the memorable event for every attendee.
We've established something of a reputation down the years here at Shendish Manor for the comprehensiveness, magic and great value of our Christmas hotel packages. It all means that there really is no finer place to be in Hertfordshire this festive season.
By downloading our Christmas brochure now, you can learn more about our generous complement of events that you are sure to reminisce about for many years to come!
Special Offers
Find out about our money-saving offers
Wedding Venue
Discover our stunning wedding venue
Special Events
Find out about our latest events