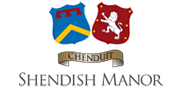 Where Victorian splendour meets modern design
Book a room
Now's the time to plan your 2018 golf holidays in Hertfordshire
As conditions get brighter and warmer and many of us look to the spring and summer, you might be contemplating what kind of short break you want to take this year. Perhaps you should book a weekend away in the city, head to the countryside or even book a golf package?
Or maybe you could more-or-less do all three, by booking a golf break at Shendish Manor?
We give you everything in a golf break
You might be wondering how any golf holidays in Hertfordshire could possibly tick all of the above boxes – after all, Shendish Manor may be many things, but it is certainly not in a city. We're actually situated in a 19th-century mill village called Apsley, in a valley of the Chiltern Hills.
We are, however, also a hugely popular hotel located a mere 30-minute train ride from central London, with all of its typical big-name urban attractions ranging from the Tower of London and the London Eye to the National Gallery and St Paul's Cathedral.
But even if you don't want to wander very far from your hotel on your golf holidays in Hertfordshire this year, booking a stay at Shendish Manor makes a lot of sense.
After all, our 5660 yard, par 70 course is an immensely rewarding one on which to play, being designed to US PGA specifications and offering just the right mix of hazards through both parkland and woodland copses to keep you stimulated and challenged for round, after round, after round.
Then, there are the rooms in which you can stay when you choose Shendish Manor. 18 beautiful bedrooms are to be found in our elegant original Manor House, which is the epitome of mid-Victorian charm. An additional 52 further air-conditioned rooms can be booked in our modern wing, and are superbly equipped for all of your needs throughout your holiday.
Few hotels offer such attractive golf break packages
We can be very flexible when you are booking a golf break with us. However, as a guideline, a golf holiday at Shendish Manor tends to combine several rounds of golf with a night or two in one of our twin or double bedrooms, a satisfying breakfast and a succulent three-course dinner in our Orangery restaurant.
Plus, with golf holidays in Hertfordshire also giving you ample gorgeous countryside to enjoy, you couldn't hope for a more inspiring and tranquil backdrop on which to tee off.
So why not find out more today about what a golf break with us entails and to make your booking, by emailing reservations@shendish-manor.com or calling 01279 603547?
Special Offers
Find out about our money-saving offers
Wedding Venue
Discover our stunning wedding venue
Special Events
Find out about our latest events