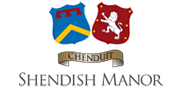 Where Victorian splendour meets modern design
Book a room
Our latest offers enable you to get even more out of your golfing trips to Hertfordshire
You would have more than enough good excuses to head to Hertfordshire to golf, even if none of the destinations from which you could choose was Shendish Manor. You see, we've established quite the reputation down the years as a place to tee off, with our current 5,660 yard, par 70 course representing a beautiful mix of challenges to novice and seasoned golfers alike.
Many people automatically choose golfing trips to Hertfordshire in the knowledge that more than half of the county is a designated green belt area. It may be Kent and sometimes North Yorkshire that is customarily described as 'the Garden of England', but we reckon Hertfordshire's credentials in this regard are similarly formidable.
Nonetheless, it's always nice to have a little extra encouragement to go golfing at one particular course over another, and we think our latest golf-specific special offers may help to swing your own decision to make Shendish Manor the next Hertfordshire golf club you visit.
What can you take advantage of right now?
At the time of writing this blog post, we can give you a great 'Nine & Dine' offer for a Thursday visit, enabling you to enjoy one course and nine holes of golf for just £19.95. We also have some fine opportunities for golf societies at the minute, including a 'full English breakfast and holes' offer, priced at £26 for a weekday and £33.50 for a weekend.
Then, there are our fully-fledged golf breaks that allow you to immerse yourself even more deeply in all of the finest things about teeing off at such a prestigious and splendid venue as Shendish Manor. How does a night in one of our gorgeous bedrooms sound, for example, when you can have not only the bed, but also dinner, breakfast and two rounds of golf for a mere £125 per person?
Get in touch with the Shendish Manor team to enquire or book
We're here to help to make your golfing trips to Hertfordshire so memorable in all of the right ways, that you keep coming back time and time again, ready to take on yet another few challenging rounds of our stimulating and intriguing US PGA-standard course.
It doesn't take much effort to get your experience with us started; all that you have to do is contact our reservations team now, by calling 01279 603547 or emailing reservations@shendish-manor.com to get the lowdown on our latest offers or make a booking.
Special Offers
Find out about our money-saving offers
Wedding Venue
Discover our stunning wedding venue
Special Events
Find out about our latest events