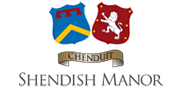 Where Victorian splendour meets modern design
Book a room
Our upcoming events could help you to prepare for your dream wedding in Hertfordshire
We could tell you a lot of things about why you should hold your wedding in Hertfordshire, and even more reasons why those nuptials ought to be at our own Shendish Manor! However, we also realise that we can't merely 'advertise' our venue and expect you to fall in love. You may well feel the need to experience our splendid Victorian property at close quarters, while you also sort through the practicalities of your big day.
Well, you can certainly cover both of those bases when you join us for one or both of our upcoming wedding events here at Shendish Manor.
No, we're not talking about you attending someone else's wedding at our utterly romantic, but also well-connected West Hertfordshire country house! Instead, we're suggesting that you come along to our Thursday 15th November event for those contemplating an outside catered wedding, or our next Wedding Fayre on Sunday 6th January 2019, or even both events.
What could you discover at these events?
Attend our 15th November event – from 5pm until 8pm, with free admission – and you'll be able to see for yourself that your long-held dream of an outside catered wedding ceremony and reception doesn't have to remain a mere dream.
We can introduce you to the elements of our venue that could help you to make the dream a reality, such as our spacious Apsley Suite with its ample room for as many as 320 guests, as well as our longstanding relationships with Asian, Jewish, Greek and Italian caterers. Indeed, the Apsley Suite can also be partitioned into four equal sections – each with their own access to private gardens – and we even have a stunning licensed gazebo for your outdoor ceremony.
As for the Wedding Fayre, there could hardly be a better opportunity for you to meet all manner of vital service providers when you are coordinating your special day. Every detail of your wedding needs to be just right, after all, including the amount that you pay for such services, which is why you may be pleased to learn that special offers will even be available at the fayre. So, we advise you to come prepared! This event, too, is free admission, running from 11am until 3pm on 6th January.
We'll assist you in getting the formula just right for your nuptials
When you wish to partner with professionals who really do know a thing or two about organising a wedding in Hertfordshire that everyone remembers for the finest reasons, you can't hope to make a superior choice to Shendish Manor. Our informed and seasoned Wedding Co-ordinators can be instrumental in making your fairytale wedding on paper become your fairytale wedding in reality.
Simply email the Shendish Manor team today to find out more about these upcoming wedding events, as well as in relation to the many other reasons why we should be your number one choice of venue for your wedding in Hertfordshire.
Special Offers
Find out about our money-saving offers
Wedding Venue
Discover our stunning wedding venue
Special Events
Find out about our latest events