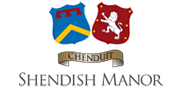 Where Victorian splendour meets modern design
Book a room
See in 2018 with our magnificent Gala Dinner
Our Apsley Suite here at Shendish Manor is already a very special place – it is, after all, the contemporary wing of our hotel, but also an atmospheric one with its elegant decor and sparkling chandeliers that help to make it the perfect place for a celebration.
Well, a celebration is certainly what we have planned for this impressive space – capable of accommodating as many as 350 guests – this New Year's Eve. It is then that a Gala Dinner will take place, presenting you and someone special with the opportunity to enjoy a stunning five-course meal, along with the entertainment that will enable you to see in 2018 in a simply incredible way.
Our New Year's Eve Gala Dinner costs just £95 for each non-resident, and £169 per person for the residential package, with the latter including overnight accommodation in our resplendent Victorian building. But what else, exactly, can you look forward to for that outlay?
It promises to be a truly wonderful evening
When you are booking a place for you and your beloved on a Gala Dinner, it probably goes without saying that the meal will be the main attraction – and there's no doubt we have made a huge effort to make this year's dinner one of our most memorable to date.
It all starts with Amuse Bouche, followed by such options as cured salmon gravlax, chicken, apricot and black pudding terrine, and roasted pepper and tomato soup. For your main dish, you can choose from the likes of beef fillet Wellington, pan-fried salmon fillet and cannelloni with aubergine, olives and feta.
This will be followed by dessert, with your choices here including a selection of British cheeses, double chocolate torte and cherry cheesecake. Coffee and petits fours, and then a glass of Champagne will enable you to see in 2018 in the utmost style.
Meanwhile, the entertainment for this very special black-tie event will start with a first-class saxophone and clarinet player, playing a selection of songs to get you into the mood for our resident DJ, who will take you into the night with a number of hits.
Secure your place for this amazing evening now
Don't miss your opportunity to attend one of the most special events we will hold all year! Call us now on 01442 232 220 or email conferences@shendish-manor.com to make a provisional booking – which we are able to hold for up to 14 days – and don't forget to to discover the other amazing events we have planned throughout the festive season.
Special Offers
Find out about our money-saving offers
Wedding Venue
Discover our stunning wedding venue
Special Events
Find out about our latest events