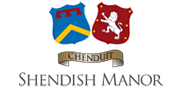 Where Victorian splendour meets modern design
Book a room
Shendish Manor epitomises English wedding venues at their most beautiful
Blog Post 06/02/2020
What item, institution or characteristic do you most associate with England? Perhaps it is the English language, red phone box, British pound, TV costume dramas like Pride & Prejudice or Downton Abbey, or even historical traditions such as afternoon tea?
Well, another thing that many people often cite is the English country house, which very much epitomises a certain beloved concept of England stretching back centuries. Indeed, the 19th century was a time of prolific construction of manor houses up and down the country, with our very own Shendish Manor just one of them.
While much has changed about England in the many generations since, one thing that hasn't is the love affair many have with charming and resplendent country houses like Shendish Manor. So, it should hardly surprise you to learn of the remarkable popularity of exclusive-use weddings in England in the 21st century.
Wait – what is an exclusive-use wedding?
An exclusive-use wedding – as its name suggests – is one that enables the lucky couple and their friends and relatives to treat the venue that they hire more-or-less as if it was their own, for the duration of their wedding and the accompanying celebrations.
As one might imagine, prestigious country houses – much as Shendish Manor was prior to its conversion into a hotel in the 1990s – have become considerably sought-after as venues for exclusive-use weddings in England.
This has prompted us to introduce our 'Exclusively Yours' package that affords couples the opportunity to get every detail of their exclusive-use wedding with us just right.
A truly formidable package
Of course, Shendish Manor takes the breath away in precisely the manner you would expect from an English country house, its splendid Victorian architectural fabric being enhanced still further by, on the outside, 160 acres of parkland and formal gardens. On the inside, meanwhile, our well-appointed suites – including the Apsley and Longman suites – are utterly beguiling.
However, it is also the exact specifications of our 'Exclusively Yours' offering that help to make this a package to be reckoned with for couples who genuinely want it all on their special day.
With 68 luxurious bedrooms able to be booked to house your nearest and dearest for the evening, as well as such fine details as red-carpet arrival, a three-course wedding breakfast, a PA system and microphone for speeches, and the services of a dedicated Wedding Coordinator and Event Manager, we really have attended to every last aspect.
Download our 'Exclusively Yours' weddings brochure today, and you will discover that there really is no finer way to tie the knot in an opulent English manor house, while also benefitting from all of the modern assistance and expertise you could conceivably require.
Shendish Manor is rapidly becoming one of the most esteemed options for exclusive-use weddings in England, and we would be honoured and delighted if you were to join us! So, please do not hesitate to enquire to our professional and diligent weddings team today for further information about this very special opportunity.
Special Offers
Find out about our money-saving offers
Wedding Venue
Discover our stunning wedding venue
Special Events
Find out about our latest events