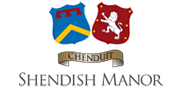 Where Victorian splendour meets modern design
Book a room
Shendish Manor gives golfers plenty to get excited about in the second half of 2019
Blog Post 12/08/2019
Our splendid Victorian country house is a major destination for summer golf holidays in Hertfordshire, for reasons that are obvious to anyone who has ever paid a visit. Not only is stimulating golf action assured by our 5660 yard, par 70 course that has been designed to US PGA specifications, but we also offer all of the other amenities needed to ensure a rewarding stay.
Furthermore, the appeal of our historic hotel as a focal point for golf holidays in Hertfordshire is maximised by the excellent golf offers that we routinely run during the summer.
This year, for instance, you can take advantage of 'buy one, get one half price' on green fees on Tuesdays and Thursdays before 13:00, as well as the opportunity to play six rounds and pay for just five. Or if you really do want to make a holiday out of your time with us as an enthusiastic golfer, why not take advantage of our current 'Summer is Here!' offer that gives you a discount on green fees as part of a broader weekend break with us?
The fun doesn't stop after the summer, though...
Whatever time of year you fancy enjoying a golf holiday at Shendish Manor, we'll be delighted to put together the ideal tailor-made package for you. Our golf course remains open every day of the year, weather permitting, so with us, you can easily build your break around whatever else you and your loves ones fancy doing in Hertfordshire during any given season.
You can find out more about our latest seasonal promotions for golf holidays in Hertfordshire by emailing reservations@shendish-manor.com or calling 01279 603547.
Then, there's the small matter of our Junior Open
While our golf course always serves up some of the best golfing action in the county, a particular highlight of our calendar for the second half of 2019 is the Shendish Manor Junior Open.
There will be a Herts Boys Order of Merit, Scratch and Handicap Boom Qualifier and a Mixed Handicap Competition making up this very special 1st November event, for which entries cost £20 per competitor and the closing date is 25th October. The competition is open to junior golfers aged below 18 years as of 1st January 2019, with both boys and girls welcome to enter.
All in all, there's a lot for golfing enthusiasts to be enthralled about at Shendish Manor for the remainder of 2019 – which means that when it comes to golf holidays in Hertfordshire, there's only one hotel that you should ever feel the need to call.
Special Offers
Find out about our money-saving offers
Wedding Venue
Discover our stunning wedding venue
Special Events
Find out about our latest events