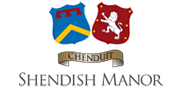 Where Victorian splendour meets modern design
Book a room
Shendish Manor is a heritage wedding venue that is also modern in all of the right ways
It's the dream that so many of us have; not only to have our wedding in Hertfordshire in all of its rural English glory, but also to formalise our union with our beloved on a charming historical backdrop. But of course, most of us expect that historical charm to be combined with certain elements that are very much associated with the 21st century.
This is a lesson that we learned before we even started making Shendish Manor available for weddings after our splendid Victorian property's conversion into a hotel and conference centre in the 1990s. We realised that if we were to weave new and magical stories in the lives of those who tied the knot with us, we had to embrace the finest of both the old and new.
It'll be love at first sight when you visit us
If you haven't already become thoroughly enchanted with Shendish Manor after glancing through the photos and information on our website, you are very much welcome to visit us 'in the flesh'.
A perfect time to do so, in fact, might be Sunday 21st October, when we'll be holding our always-popular Wedding Fayre. It's a must-not-miss chance to meet service providers and our own seasoned Wedding Co-ordinators, while also marvelling at our stunning venue.
But this brings us to another very important point: your love of us won't be merely surface-deep. That's because, even though such well-preserved historic spaces as our Manor House and Longman suite are genuinely jaw-dropping, we also provide you with thoroughly 21st-century standards of equipment and service to help ensure your big day goes without a hitch (except the obvious one).
Enquire now about how we can give you your dream wedding in Hertfordshire
Our many modern touches include our air-conditioned and suitably contemporary-looking Apsley suite, as well as the wide range of caterers with whom we maintain strong relationships, befitting the multicultural Britain of today. We have links with fabulous caterers across the Asian, Jewish, Greek and Italian communities, so you really can have a wedding in Hertfordshire that is both traditional and up-to-the-minute in all of the ways you want it to be.
Throw in such other elements as a dedicated manager providing their services to you on the day, as well as the fact that we are licensed for civil ceremonies and the option to hire the Apsley suite on a 'venue hire only' basis, and you'll begin to see why we are regarded as one of the most well-rounded wedding and events venues in the Home Counties.
In short, we aren't just a pretty face among all of the heritage venues that you could consider for your wedding in Hertfordshire! It's also easy to find out more about how we can make your own wedding one you'll never forget – simply give the team a call today on +44(0)1442 232220.
Special Offers
Find out about our money-saving offers
Wedding Venue
Discover our stunning wedding venue
Special Events
Find out about our latest events