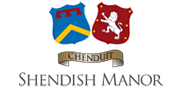 Where Victorian splendour meets modern design
Book a room
So many ways to take advantage of our golf country club
Green, leafy and affluent Hertfordshire isn't exactly a part of the country known for its lack of golf courses. You may therefore be wondering why you should specifically make Shendish Manor your next golfing destination, even if you don't intend to stay the night with us.
The truth is that while our Victorian manor house exudes charm and comfort as a place to reside for the night, we have also attracted particular acclaim in recent years as a golf country club in Hertfordshire – and there are so many ways for you to make the most of our course and premises.
First, let's consider the course itself...
The benefits of our golf course aren't restricted to its wonderfully tranquil and picturesque setting and easy-to-reach location, a less than 10-minute drive away from Watford and Hemel Hempstead.
That's because our 5660 yard, par 70 course also provides a thrilling experience for novice and seasoned golfers alike, with its varied hazards through both parkland and woodland copses, all designed to US PGA specifications.
...but there are so many other amenities to enjoy
Every good golf country club in Hertfordshire knows that a rewarding golfing holiday, break or visit is about so much more than the golf itself – and sure enough, our facilities are among the best that you will find anywhere in the county.
Head towards the 19th hole, for example, and you will find the Coach House, from which buggies and trolleys can be hired. There's also an excellent bar here for when you fancy a satisfying breakfast or meal.
Why not make a break out of it?
While we have various membership options from which you can choose – and which are likely to be of particular appeal if you are based close to our hotel – we are also renowned for our highly flexible, value-for-money and stimulating golf breaks.
If it's the latter that you wish to book, our reservations team will make the entire process easy for you. We offer not only standard golf break packages, but also a tailor-made service if you would like your next golfing holiday to cater to even the finest details.
But even just a typical golf break with us gives you so much of the best that we have to offer as a golf country club in Hertfordshire. Several enthralling rounds of golf, a relaxing stay in a twin or double bedroom, a satisfying breakfast and a delicious three-course dinner can all be included in a golfing package with us, at a very reasonable price.
With various interesting offers and promotions running throughout the year, if you're on the lookout for the perfect golf country club in Hertfordshire, we reckon here at Shendish Manor that your search may just be over.
Special Offers
Find out about our money-saving offers
Wedding Venue
Discover our stunning wedding venue
Special Events
Find out about our latest events