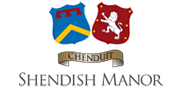 Where Victorian splendour meets modern design
Book a room
The ingredients of a thoroughly memorable golf holiday
Much has been made in recent times about how we are now firmly in the era of the British 'staycation', in which many of us - rather than jetting off to faraway exotic climes - are renewing our acquaintance with the things that make the UK a fine holiday destination in its own right.
So with that in mind, what do our golfing trips in Hertfordshire offer that makes them such a great alternative to a similar holiday anywhere else in the world?
A suitably challenging course
How does a US PGA-specification, 5660 yard, par 70 course sound for your golfing holidays? Our course here at Shendish Manor is open right through the year, and provides the perfect mix of hazards through both parkland and woodland copses. Whatever your golfing experience and ability, you can expect a rewarding game.
A stunning backdrop
If there's one definite benefit of basing your golfing trips in Hertfordshire, it's the jaw-dropping rural surroundings that you can expect as you tee off. Our own golfing venue doesn't disappoint - after all, we are set in 160 acres of beautiful parkland and formal gardens in one of the prettiest corners of West Hertfordshire.
The assistance of a professional
The best golfing holidays are never just about the enjoyment - they also represent the ideal opportunity for you to improve your game. That's why you may well be interested in arranging private one to one or group lessons with our own PGA professional.
Delectable dining
Whether you're enjoying the delightful breakfast served in our Coach House bar that also happens to be conveniently placed for the 19th hole, or tucking into the complete exquisite three-course dinner at our enchanting Orangery restaurant, Shendish Manor provides an amazing gastronomic experience.
A comfortable stay
Across both our original 19th century Manor House and a sophisticated and tasteful modern wing, we offer rooms in which to stay that are highly inviting and equipped with all of the essentials you would expect on your golfing break. By that, we mean the likes of multi-channelled LCD television, complimentary broadband Internet access, hypoallergenic pillows and duvets, and so much more.
Both standard and bespoke golfing trips to Hertfordshire are available to be booked from the Shendish Manor team right now - so why not call 0844 879 7417 or email reservations@shendish-manor.com to enquire about them or make a booking?
Special Offers
Find out about our money-saving offers
Wedding Venue
Discover our stunning wedding venue
Special Events
Find out about our latest events