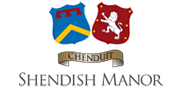 Where Victorian splendour meets modern design
Book a room
There'll be no finer place to spend Christmas 2019 than Shendish Manor
Blog Post 05/08/2019
All too many venues for a Christmas celebration can flatter to deceive, not exactly offering the idyllic surroundings that they might have seemed to do in the promotional material; Shendish Manor, however, is a decidedly different proposition. Having been constructed in the mid-19th century by Charles Longman of the famous publishing family, our country house – now hotel – was conceived to be breathtaking, and continues to attract and enchant new admirers today.
If, then, you're currently comparing the festive season lunch offers of events venues based in or even far afield from Hertfordshire, Shendish Manor might seem to tick all of the boxes. What's more, you'll discover that it ticks a lot more of them when you download our latest Christmas and New Year brochure for 2019.
A host of inspiring festive events
We did mention festive season lunch offers, and you really can't expect to find any better ones than those that we are showcasing here at Shendish Manor for Christmas 2019. We are offering two-course lunches for £20 per person and three-course lunches for £25 per person, running throughout December – the perfect opportunity, in short, for you to savour relaxed Yuletide dining in the company of family, friends or colleagues.
On the subject of rewarding lunches, though, why not also join us for our Ladies That Lunch event on Friday 29th November? This annual event isn't just one at which you will be able to enjoy a festive bite to eat, as there will also be the chance to shop beforehand, from a host of stallholders selling beautiful Christmas gifts for your nearest and dearest. This will then be followed by a two-course festive lunch and beverage.
So much to see and do at our wonderful venue this winter
Whatever time of the Christmas season you may wish to join us, we're confident that we'll have the perfect event for you! With the likes of Festive Afternoon Teas, two-course and three-course Christmas Party Nights, our always-popular Christmas Day Lunch and even a splendid New Year's Eve Gala Dinner to look forward to, when you choose our Apsley hotel, you can be sure of doing Christmas and the New Year in style.
Download our Christmas and New Year brochure today, and you'll see that here at Shendish Manor, we're about so much more than competitively-priced festive season lunch offers. Just don't take too much time to decide on an event, as every single one is sure to be in demand, and we wouldn't wish you to miss out on any of them!
Special Offers
Find out about our money-saving offers
Wedding Venue
Discover our stunning wedding venue
Special Events
Find out about our latest events