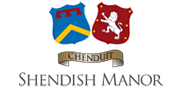 Where Victorian splendour meets modern design
Book a room
There's no better place to see in 2019 than Shendish Manor
What are your hopes for the New Year? Are you aiming to get fit, take the next big step in your career or even get married, perhaps right here at Shendish Manor?
Let's slow down a bit first, though. Yes, you might have a lot to get excited about as far as your 2019 plans are concerned. However, 2018 isn't even over yet, and it may be that you wish to celebrate all of the great things that have happened in your life this year – or even just conclude the year on a positive note, if 2018 hasn't gone so well for you.
That's precisely why you may wish to join us at our resplendent Victorian property in West Hertfordshire to see off the year in style and welcome in a new one. But what New Year's Eve events have we got lined up in 2018 that are sure to be in strong demand?
No one does gala dinners quite like ours
Our prestigious New Year's Eve Gala Dinner is one of the must-attend occasions in this picturesque corner of South East England, and it's not too difficult to see why.
After all, this decadent black-tie event comprises a four-course meal enabling you to tuck into such dishes as white crab meat tian, pan fried fillet of hake, oven baked lamb rump and pear and chocolate tart, all while a talented vocalist serenades you.
Then, our resident DJ will take over to round off the celebrations with hits playing late into the night. A glass of Champagne will also be served at midnight, and if you fancy staying around a little longer, we would be delighted to provide you with a residential package incorporating an overnight stay.
Or, if you're looking for something a little more 'discolicious'...
Understandably, you might find the idea of a New Year's Eve Gala Dinner slightly... extravagant for your tastes, in which case, you may well be delighted to learn about our New Year's Eve Dine & Disco that consists of a two-course dinner followed by an amazing disco.
It's another stylish way to greet the start of 2019, characterised by a smart dress code but otherwise enabling you to thoroughly let your hair down as you contemplate the year ahead.
You can find out more about our New Year's Eve Gala Dinner, Dine & Disco and so many more Christmas-season events at Shendish Manor by downloading our festive brochure today. Then, call 01442 232220 or email events@shendish-manor.com to make your booking.
Just be sure to act fast – after all, we are one of the most sought-after venues for winter events throughout Hertfordshire, and when it comes to stunning settings, there are few more impressive than that of the truly splendid Shendish Manor.
Special Offers
Find out about our money-saving offers
Wedding Venue
Discover our stunning wedding venue
Special Events
Find out about our latest events