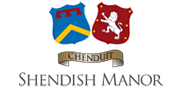 Where Victorian splendour meets modern design
Book a room
There's no need to look far for a great birthday party venue
Whether you're interested in holding a birthday party for a kid or merely a big kid, you will need to think carefully about the venue.
Of course, you could always have such a birthday bash at home, but for others, the sense of occasion desired or even just the practicalities mean that an alternative must be considered.
Certainly, when it comes to birthday party hall hire in Hertfordshire, here at Shendish Manor, we think we're among the very best options out there.
What makes us such a special place to hold a birthday party?
You only need to look around our building – both inside and outside – to get a sense of why so many people book us for events, whether for birthday parties or the likes of proms, graduations, hen parties, weddings and baby showers.
In short, without wanting to be too boastful, we look amazing, whether you marvel at the Victorian architecture of our building from the outside, or instead our scenic grounds or any of our many fine internal areas.
The latter include the Dickinson and Longman suites that you can find in our Manor House, and which can accommodate as many as 80 guests – more than enough for even the best-attended birthday party! These suites incorporate tasteful original features such as high ornate ceilings, traditional fireplaces, carved oak panelling and chandeliers.
If, however, you're more interested in an unashamedly contemporary setting to suit an unashamedly contemporary birthday party, you only need to look to our versatile and air-conditioned Apsley Suite. Its capacity of 400 people may seem rather high for a birthday party, but the room can be divided into smaller identical rooms to preserve that more intimate atmosphere.
We aren't just about birthday parties
As we mentioned above, while we certainly have a thing for birthday parties here at Shendish Manor, it's far from our only speciality.
Yes, that's right – such benefits as our complimentary wireless broadband, complimentary parking, AV equipment and comfortable hotel rooms can also be enjoyed by those holding any of the aforementioned events with us. Our team is also on hand to help take the stress out of holding a private event, whatever type of event it may be.
Simply contact the Shendish Manor team today about the fun-filled and memorable birthday party that you could hold with our help – and at the most competitive rate. We're confident that you won't find a better option for birthday party hall hire in Hertfordshire.
Special Offers
Find out about our money-saving offers
Wedding Venue
Discover our stunning wedding venue
Special Events
Find out about our latest events