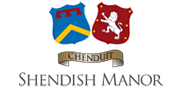 Where Victorian splendour meets modern design
Book a room
Various golf offers are available to help you to make the most of our course throughout the winter
Does the arrival of the winter mean you should put off any thought of golfing holidays in Hertfordshire until the spring? Here at Shendish Manor, our emphatic answer is "no" – and it's largely to do with our many special offers from which you can benefit over the next few months, until Christmas and beyond.
We are a genuinely all-year-round golf destination
While the famously green and verdant county of Hertfordshire will always be especially beautiful during the warmer seasons – and much the same can be said of our 5,660 yard, par 70 course – we actually make our golfing facilities available right through the year, weather permitting.
Indeed, our golf course can often feel like even more of a tranquil escape during the winter, and given the elevated temperatures this year, you may find that your late-2018 golfing holidays in Hertfordshire with us are rather warmer and sunnier than you expected.
There are so many ways to save on the use of our golf course
When you get in touch with our reservations team by calling 01279 603547 or emailing reservations@shendish-manor.com, we can update you on our latest seasonal promotions for golfing holidays in Hertfordshire, as well as inform you about both our standard and tailor-made break packages.
You're sure to be able to assemble a winter golfing holiday that perfectly matches the needs of every member of your visiting party. A typical golf break at Shendish Manor can encompass everything from a stay in one of our twin or double bedrooms and a hearty breakfast to a satisfying three-course dinner and, of course, several rounds of the golfing action itself.
Then, there are such golf-specific offers that we can bring you right now as our 2-4-1 Golf Tuesdays and Thursdays, Midweek Four Ball and Four-ball with two buggies deals. We are also delighted right now to be able to present a Golf Society Offer that gives attendees a full English breakfast tea or coffee alongside 18 holes of golf, from Monday to Friday.
So, whether you live close to our splendid property in Apsley and fancy just dropping into our course for a few rounds with friends, or are instead based much further afield and are considering us for your winter golfing holidays in Hertfordshire, why not contact our team now to find out more about the packages and offers that you can take advantage of right now?
Special Offers
Find out about our money-saving offers
Wedding Venue
Discover our stunning wedding venue
Special Events
Find out about our latest events