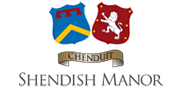 Where Victorian splendour meets modern design
Book a room
Here at Shendish Manor, we can make your big day run that bit smoother
There's no denying that weddings can be stressful events – through all parts of the process, be it the planning, the day itself or dealing with the aftermath of such an important life event.
As one of the most prominent wedding venues in Hertfordshire, here at Shendish Manor, we've assisted our fair share of loved-up couples and wedding guests, doing everything from securing last-minute rooms to modifying our world-class food and drink menu in accordance with the most specific dietary requirements.
If you're planning a wedding, it's completely understandable that you may be worried about certain aspects of organising it. To help calm your nerves, here's how the Shendish Manor team does its utmost to help your big day go without a hitch.
Dedicated to helping you
It may be that you're struggling to agree on a menu plan, the guest list is changing more times than you can keep up with, or you've decided at the last minute that your dress doesn't look so great on you after all. Whatever your crisis may be, you'll probably have a great support system of friends and family to assist you with any worries that you may have.
However, you may find that you require that little bit extra specialist help to stop you from tearing your hair out in the run up to your big day. Our dedicated wedding coordinators can assist you with any planning woes, while our wedding manager will ensure that the day itself goes as smoothly as planned - or as smoothly as anyone can ever ensure, anyway!
A wedding that welcomes all
One of the most common worries that budding partners and potential guests alike have expressed to us down the years concerns the accessibility of the venue. It's a good job, then, that we take great pride here at Shendish Manor in making our hotel as physically accessible to as wide a range of people as possible, while also catering to the most demanding food and drink requirements.
Shendish Manor offers a range of stunning guest rooms with such welcome accessibility features as hand rails and roll-in showers. As for food and drink – two very important aspects of a wedding – our executive chef and his kitchen team will do their utmost to tweak the menu to meet any specific dietary requirements or concerns. We will do everything possible to ensure that neither you nor your guests have to endure the big day on an empty stomach.
For further information or assistance regarding the memorable weddings that we are so proud to host in this stunning part of Hertfordshire, why not get in touch with the Shendish Manor team today?
Special Offers
Find out about our money-saving offers
Wedding Venue
Discover our stunning wedding venue
Special Events
Find out about our latest events