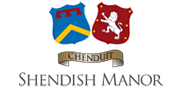 Where Victorian splendour meets modern design
Book a room
We have several exciting events coming up for those of you thinking of tying the knot
Blog Post 10/07/2019
The whole point of your wedding day may be to make it the most memorable day of your life for the very finest reasons, but all of the planning and preparation in the run-up to such a special event can undoubtedly be immensely stressful.
So, why not take steps to lessen some of the anxiety and confusion that you might be feeling about the organisation of your own wedding right now, by popping along to one or both of the key wedding-centred events that we'll be holding here at Shendish Manor in the coming months?
Our Wedding Showcase Event will leave you full of ideas and inspiration
First up is our Wedding Showcase Evening on Monday 22nd July, which will give you the chance to not only discover our splendid venue and grounds 'in the flesh', but also discuss your requirements for your wedding with our seasoned Wedding Co-ordinators.
Throw in bubbles and canapés and the special offers that we will be presenting on the day, and you've got little excuse for missing this event if you're presently on the lookout for the best possible wedding package in Hertfordshire.
Or come along to our Wedding Fayre to meet a range of exhibitors
Part of the reason weddings can be so stressful to organise in the first place, is the fact that there are so many different wedding services you'll need to sift through and compare, if you are to be sure of choosing the right ones for this extremely important day of your life.
Wouldn't it just be so much easier if you could meet many of these service providers in person, on one day, in one place? Well, that's precisely what our next Wedding Fayre – scheduled for Sunday 20th October 2019 – will enable you to do.
This free-admission event – between 11am and 3pm – will give you the perfect opportunity to converse with these exhibitors as you seek to assemble the most special of special days for you and your sweetheart. Even better news is that our own Wedding Co-ordinators will also again be present to answer any queries you may have about opting for us as your wedding package in Hertfordshire.
As with our Wedding Showcase Evening, canapés will be served at our Wedding Fayre, and special offers will be available for you to take advantage of on the day.
Get in touch with the Shendish Manor team today
Don't wait until either of these events, however, if you have any really pressing questions about how we serve couples just like you in their efforts to make their weddings truly unforgettable.
Call +44(0)1442 232220, in fact, and we'll be delighted to give you more details about the aspects of our service that will make us the most suitable wedding package in Hertfordshire for your own needs.
Special Offers
Find out about our money-saving offers
Wedding Venue
Discover our stunning wedding venue
Special Events
Find out about our latest events