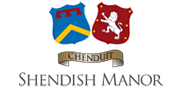 Where Victorian splendour meets modern design
Book a room
We offer everything you need in a private functions venue in Hertfordshire
Few people can doubt that Hertfordshire is an extremely green, pleasant and charming place to while away some time, with no shortage of great attractions to visit and activities in which to partake. This makes the county an obvious spot for a private function, not least when its strong transport connections to the rest of southern England and the UK are also considered.
However, there is still such thing as a goodprivate functions venue in Hertfordshire, and a bad one - and we are delighted to offer all of the essential characteristics of the former here at Shendish Manor.
Historic splendour, combined with contemporary facilities
Whether you are planning to hold a wedding, birthday party, fundraising event, baby shower, hen party or a completely different kind of private function, if your idea of the perfect venue is one that exudes history, you should be more than pleased with Shendish Manor.
After all, our distinguished past stretches back to the 13th century, and our present building is a masterpiece of Victorian splendour. When we say that, we are referring to not only the exterior, but also the interior of our country house, which sports various original features including high ornate ceilings, oak panelling and a sweeping staircase.
However, we also make great practical sense as a private functions venue in Hertfordshire, not least as we are so easy to reach, with central London a mere half-hour train ride away. When you also consider our fine dining facilities, challenging golf course and 70 comfortable and stylish guest bedrooms, it should become clear to you just how well-rounded we are as a place to hold your event.
Book your special event with us today
We are more than experienced when it comes to special events, having long held everything from traditional afternoon teas to graduation and prom celebrations under our roof. With our experienced and capable team also on hand to help ensure that every moment of your private function goes like clockwork, there's really no need for you to consider any other venue.
For a private functions venue in Hertfordshire that truly offers it all, simply look to Shendish Manor - just get in touch with our team today to make your booking.
Special Offers
Find out about our money-saving offers
Wedding Venue
Discover our stunning wedding venue
Special Events
Find out about our latest events