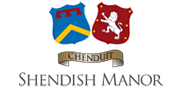 Where Victorian splendour meets modern design
Book a room
Weddings in Hertfordshire are made truly magical by Shendish Manor
Shendish Manor has been hosting special occasions for longer than most Hertfordshire wedding venues. After all, our historic country house was built in the mid-19th century, and there has been a manor here since around 1300.
Weddings in Hertfordshire, of course, are usually pretty magical already, given that this is one of England's greenest and most beautiful counties.
But you've also got no shortage of fine venues to choose from in this jaw-dropping part of Britain. So what are the many ways in which Shendish Manor makes the nuptials of those who book our venue thoroughly enchanting for everyone in attendance?
We get the basics right!
Such is the splendour of our venue that it can be easy to forget the almost endless list of mundane aspects of a wedding that must be dealt with if the day is to be a success.
That's why we work extra hard in this area – or rather, our knowledgeable Wedding Co-ordinators do, guiding and helping you with your wedding planning before handing over to an experienced manager who will be able to oversee your celebrations on the day.
It's the kind of fastidiousness for which we have long been renowned, and which assists in ensuring there are no unexpected nasty shocks on the date itself.
We provide the suites that will leave you gasping
The setting is all-important when you are selecting a wedding venue, so it's just as well that Shendish Manor offers several breathtakingly romantic suites.
The largest of them, the Apsley Suite, offers all of the air-conditioned space necessary for as many as around 320 guests to celebrate in style, with the elegant decor and sparkling chandeliers helping to set the perfect tone.
Meanwhile, our Manor building exudes Victorian charm, its many fine original features including high ornate ceilings, oak panelling, a Jacobean fireplace and sweeping staircase. The largest suite in this part of the property is the Longman suite, which has a capacity of 96 guests for a wedding breakfast.
Both the Manor House and Longman suite also open out onto the grounds of the estate and the Dutch gardens, which provide you with an idyllic spot to enjoy a drinks reception with your family and friends and have some snaps taken by your wedding photographer.
We do everything else needed to make your wedding a triumph
Whether you wish to use your own speciality caterer, take advantage of special bedroom rates for your guests or enjoy all of the convenience of complimentary parking including coach space, there's little need to look further than Shendish Manor for your choice of venue.
Contact us now to learn more about why no venue does weddings in Hertfordshire quite as well as Shendish Manor does.
Special Offers
Find out about our money-saving offers
Wedding Venue
Discover our stunning wedding venue
Special Events
Find out about our latest events